Improving pupil outcomes for over 25 years
We imagine you're on this page because you're curious about Thrive and want to know if it really makes a difference to the lives of children, young people, and the range of stakeholders who engage with Thrive. In this section of the site we will continue to add a range of case studies, research and evidence that gives you the confidence that Thrive really works.
Learn more about the impact of Thrive and the research behind the Thrive Approach
An investment worth making
An independent study looking into the social return on investment of the Thrive Approach estimates that between £7.70 and £9.06 of value for society is generated for every £1 invested in its implementation.
When longer‐term outcomes are taken into account ‐ including reductions in social and emotional problems later in life as a result of exposure to Thrive in childhood ‐ the potential social return rises to between £16.50 and £22.00 for every £1 invested in Thrive.
As part of the independent study, a series of interviews aimed to draw out the various contexts, nuances and outcomes relating to the implementation of Thrive. This process facilitated the development of a 'Theory of Change' for Thrive comprising a detailed analysis of the various outcomes as they occur over time. This research proved integral to understanding the value of Thrive to schools and settings as well as society, and in turn the development of the 'Theory of Change' for Thrive. Outcomes were identified for four main groups of stakeholders.
Click on the titles & headings below to reveal the outcomes
Short-medium
term outcomes
Medium-longer
term outcomes
Increased self-awareness
Empowerment
Common understanding
Reduced class disruption
Secure sense of belonging
Improved emotional resilience
Better access to and engagement in learning
Fewer permanent exclusions
Improved educational attainment
Reduced substance abuse and self-harming
Reduction in teenage pregnancies and young offenders
Improved mental health
Improved well-being and quality of family life
Increased tolerance between siblings
Increased skills to support child's education
Improved adult relationships
Positive impacts on future parenting
Reduced pressure on family support services
Reduction in depression and poor mental health
Reduced transmission of social and emotional problems
Common understanding and language across sectors
Emphasis on most needy referrals
Improved management of vulnerable and challenging children and young people
More links and cooperation between organisations
Reduced breakdown of adoption and foster care
Reduced number of children in residential care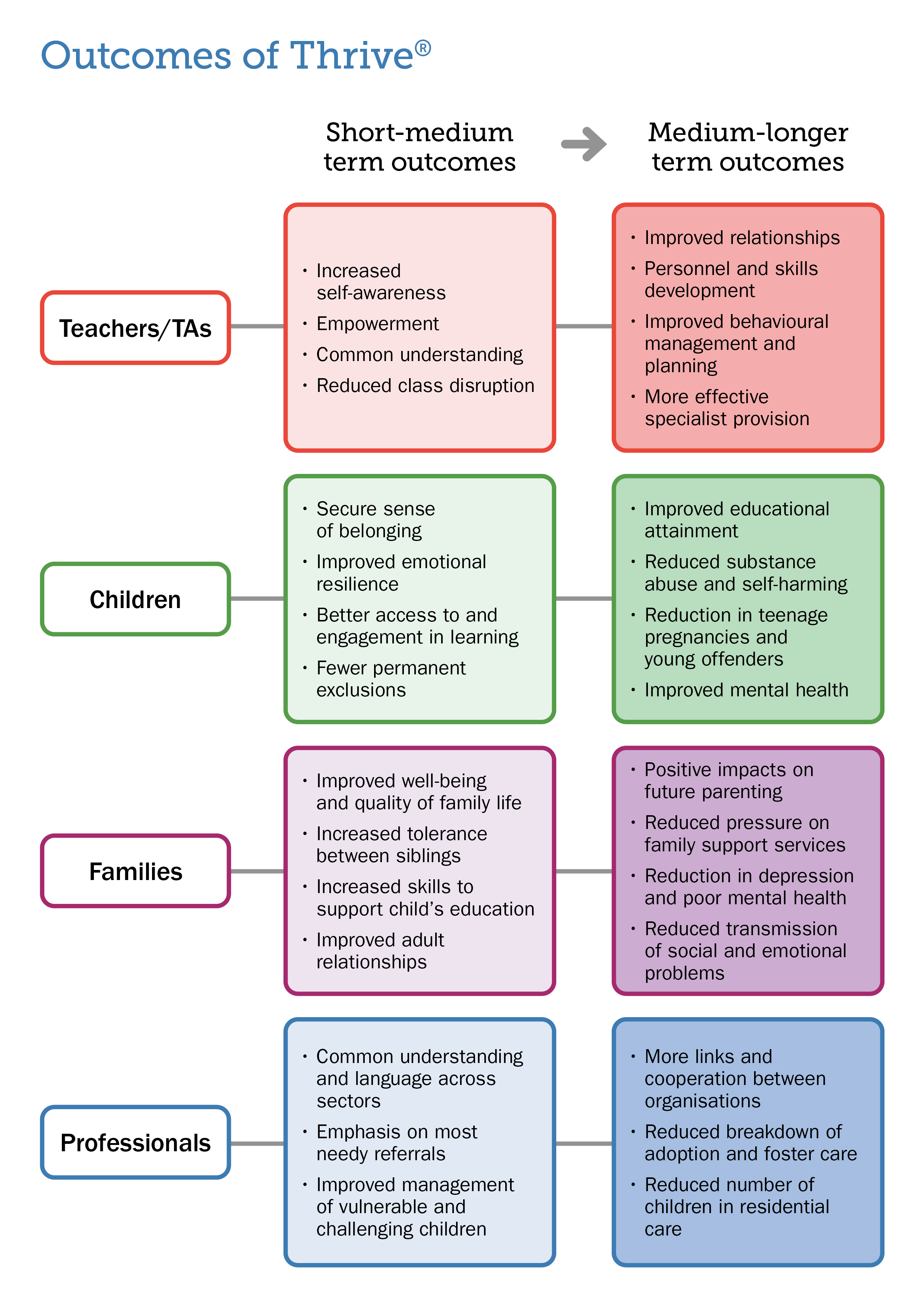 To learn more about the outcomes of Thrive for the four stakeholder groups please click here
To learn about the context behind the Theory of Change for Thrive please click here
To learn more about the social return on investment (SROI) of Thrive please click here
"Thrive is the first time I have seen Attachment Theory translated into very doable, practical things, something really accessible which says, lets not fuss too much about what kind of attachment disorder it is, lets just accept that what this child needs is a close relationship; here's how you do that in the context of your setting and here are some practical strategies. That has been the big difference!"