Supporting to thrive
Adolescence can be a challenging experience for young people. As their bodies begin to change shape, their brain also goes into a period of neuronal change. This offers an important opportunity to reshape their stress-regulation system and to support young people to develop a different sense of themselves and their capacities. Understanding how the brain grows and develops throughout this period, and using evidence-based practices that improve emotional health and mental wellbeing, helps us to make the most of opportunities to support young people to be emotionally and mentally healthy - allowing them to learn well.
Thrive gives you the tools to reduce disruptive behaviour and exclusions, raise attendance, and improve attainment throughout your setting, allowing you to identify, address and monitor the progress of young people's social and emotional needs. This empowers young people to better understand and manage their emotions and behaviour in creative and transformative ways.
All young people need positive relationships, emotionally healthy environments and routines that support mental wellbeing. Thrive will help you to reduce stress, make the most of your existing resources and develop your well-being practice as a whole setting.
View possible funding opportunities
Your Secondary School or College's Thrive Journey
Start your Thrive journey today by joining over 2800 settings in the UK already using Thrive to improve the emotional wellbeing and attainment of the children and young people in their setting.
To begin, just:
1 - Pick your preferred route to embed Thrive 2 - Schedule a discovery call 3 - Start your journey towards whole school wellbeing and improved learning.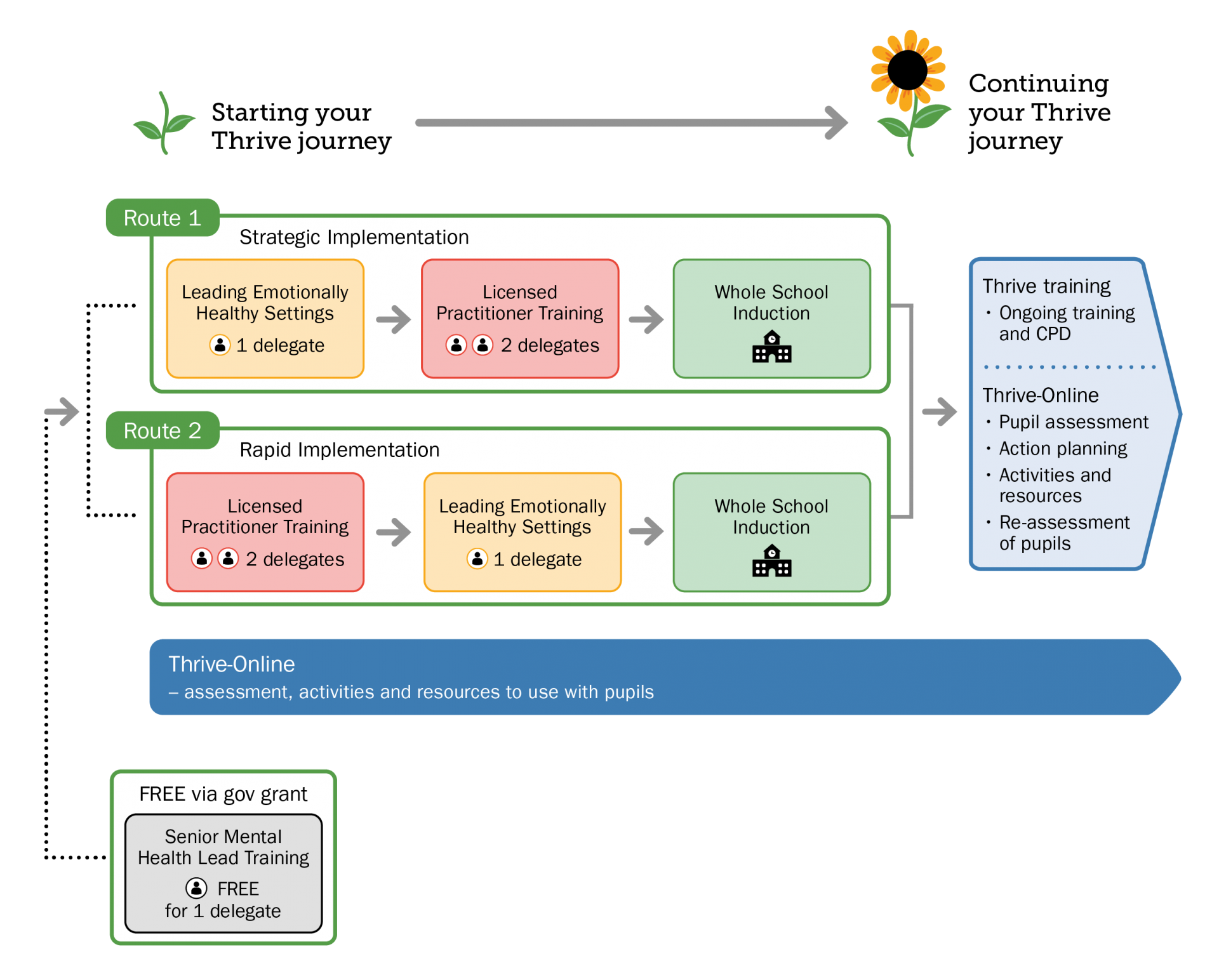 Route 1 - Strategic
Route 1 is the recommended approach to thoughtfully embed Thrive throughout the school, championed and role modelled by the Leadership team from the top down.
This option gives the best possible start for a school-wide implementation of Thrive.
Price on application
Route 2 - Rapid
Route 2 allows for rapid, ground up, school-wide Thrive implementation to swiftly tackle challenges around student wellbeing, behaviour, absence, or attainment.
Embedding Thrive from the bottom up ensures frontline staff receive training as a top priority.
Price on application
Senior Mental Health Lead
Have one staff member join our DfE funded Senior Mental Health Lead training to gain the strategic perspective and understanding needed to embed a right-time, whole-setting approach to promoting emotional wellbeing and preventing mental health issues (free for 1 delegate).
DfE funding available
Benefits for Secondary Schools & Colleges
Improved emotional wellbeing and mental health
Knowledge and skills to better support young people through different stages of adolescence
Better attendance rates
Improved readiness to learn
Tailored strategies and action plans for pupils' healthy emotional development (for individual pupils and groups)
Healthy stress regulation systems for young people to use
Healthier staff – pupil relationships.
Start your journey with Thrive
If you're ready to improve attendance, behaviour & attainment,
click here
or the button below to schedule a 30-minute Discovery Call with a member of the team. These calls are designed to fit in around your schedule, to give you an opportunity to have your questions answered and establish whether or not our service is a good fit. Our Relationship Managers won't sell to you, but they will let you know if they think we can help.