"I aim to inspire just as I have been by Thrive trainers and practitioners"
Each month, we celebrate the valuable role our Thrive trainers play and share messages of thanks from the delegates they've supported.
Surita Meyer was introduced to Thrive in 2017. Inspired by the theory and impact of the Approach, Surita trained as a Thrive Licensed Practitioner in the same year and became a trainer just 2 years later.
We interviewed Surita as part of our Thank a Trainer campaign following her nomination from Candy Clark.
Candy is a Teaching Assistant at Kingsweston School, a setting for children with moderate to severe learning difficulties, based in Bristol.
Read on to discover the positive changes Surita has seen her delegates make in their settings and what Candy valued most about her approach.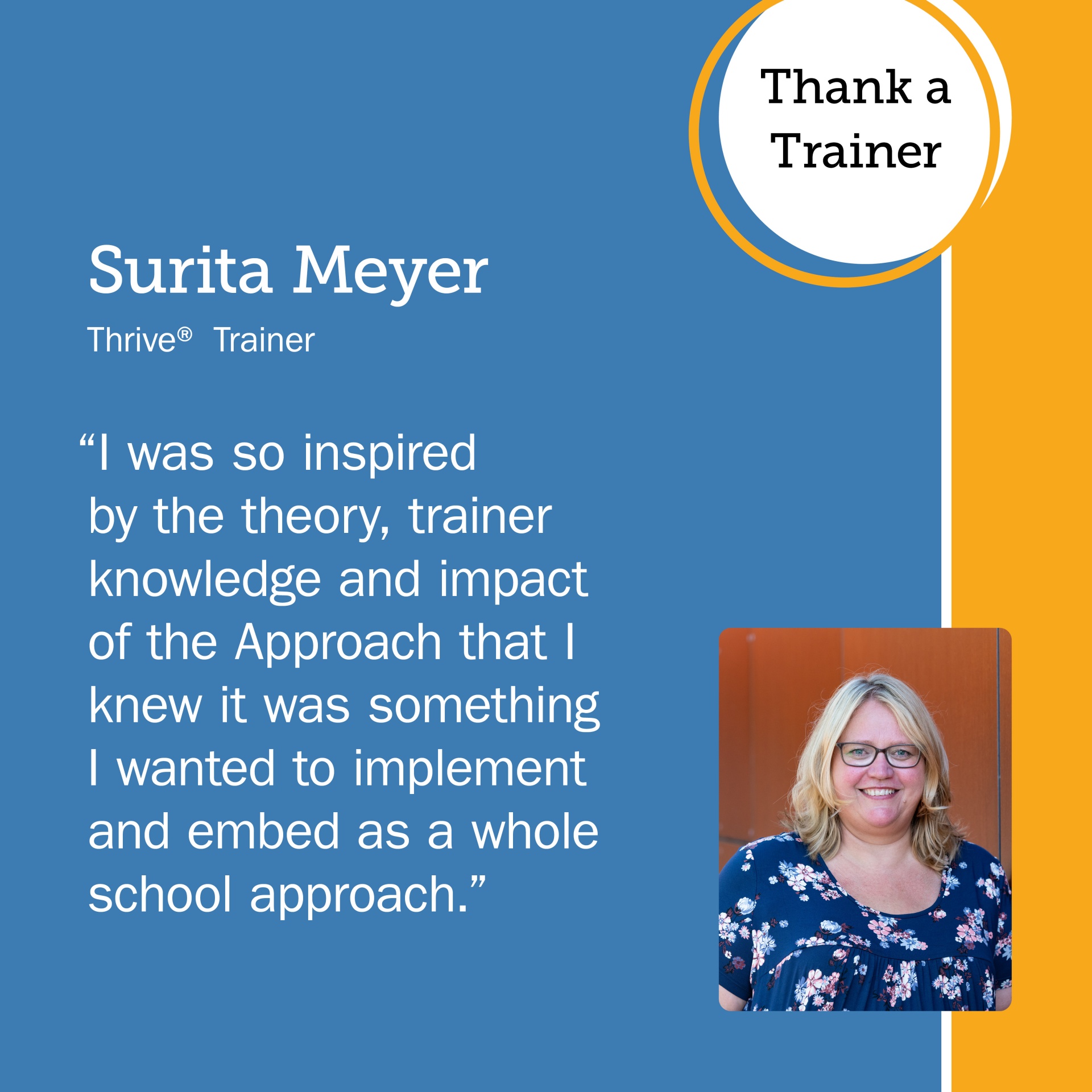 Thank a Trainer Interview: Surita Meyer
Q1. Please tell us about your career journey and what led you to becoming a trainer for Thrive.
I grew up on a small farm in South Africa and emigrated to the UK in 2003, where I now live in London.
My background is in primary and special education, in South Africa as well as in the UK. I am an Assistant Headteacher at a school for pupils with profound and complex learning difficulties.
I first heard about Thrive at a mental health conference in 2017. I was so inspired by the theory, trainer knowledge and impact of the Approach that I knew it was something I wanted to implement and embed as a whole school approach. I trained as a Thrive Licensed Practitioner in 2017 and qualified as a Thrive trainer in 2019.
Q2. How do you feel about being thanked by your course delegates for the role you've played in their development?
I was surprised and also appreciative of their kind comments. I am pleased to have been part of their development. I aim to inspire just as I have been by Thrive trainers and practitioners. I feel privileged to be involved in sharing Thrive with others.
Q3. How does this nomination remind you of the impact you are having on the social and emotional development of children and young people?
The nomination affirms to me the ripple effect of the work we do as Thrive trainers. The part trainers undertake starts the ripple and it expands as it is shared and implemented, reaching more and more children.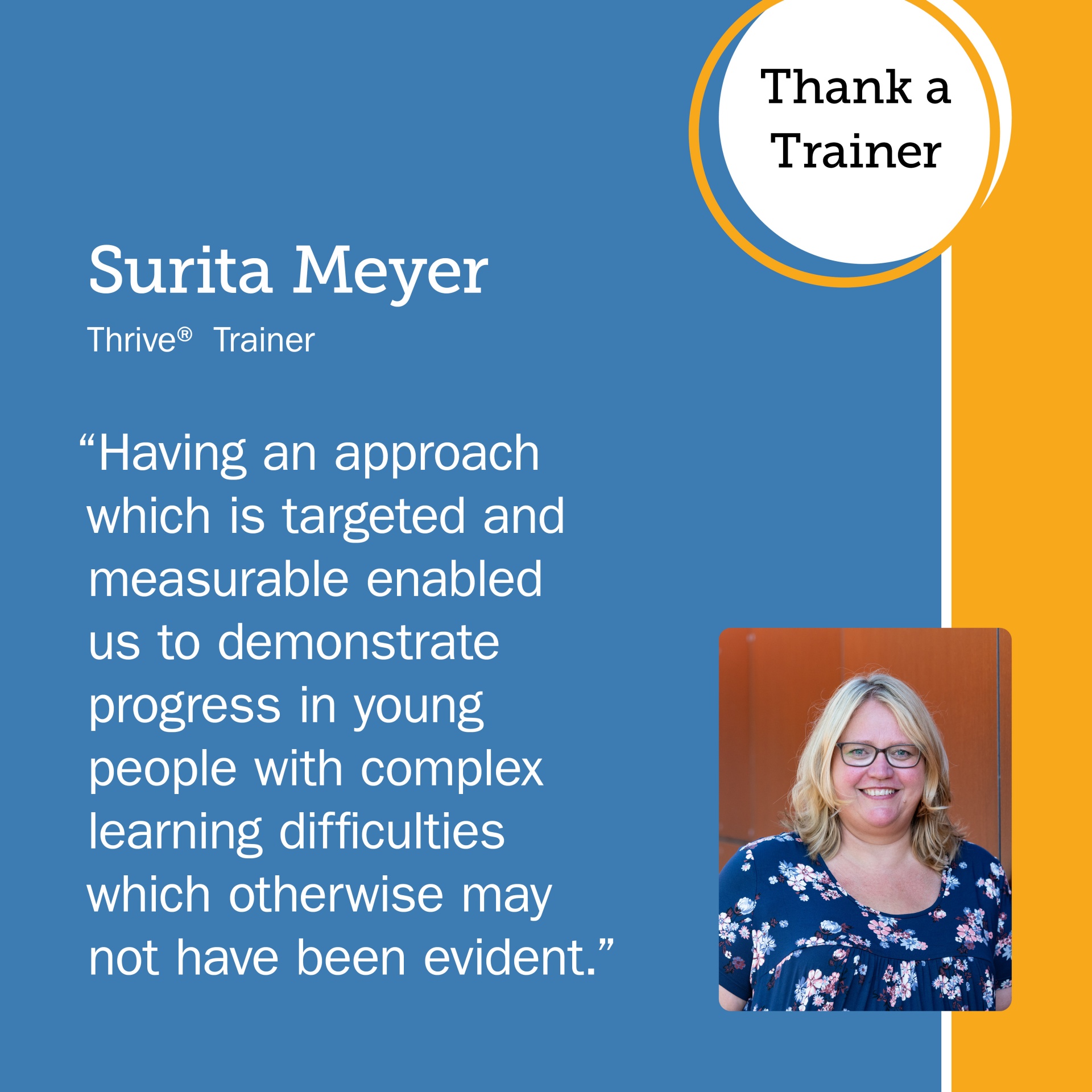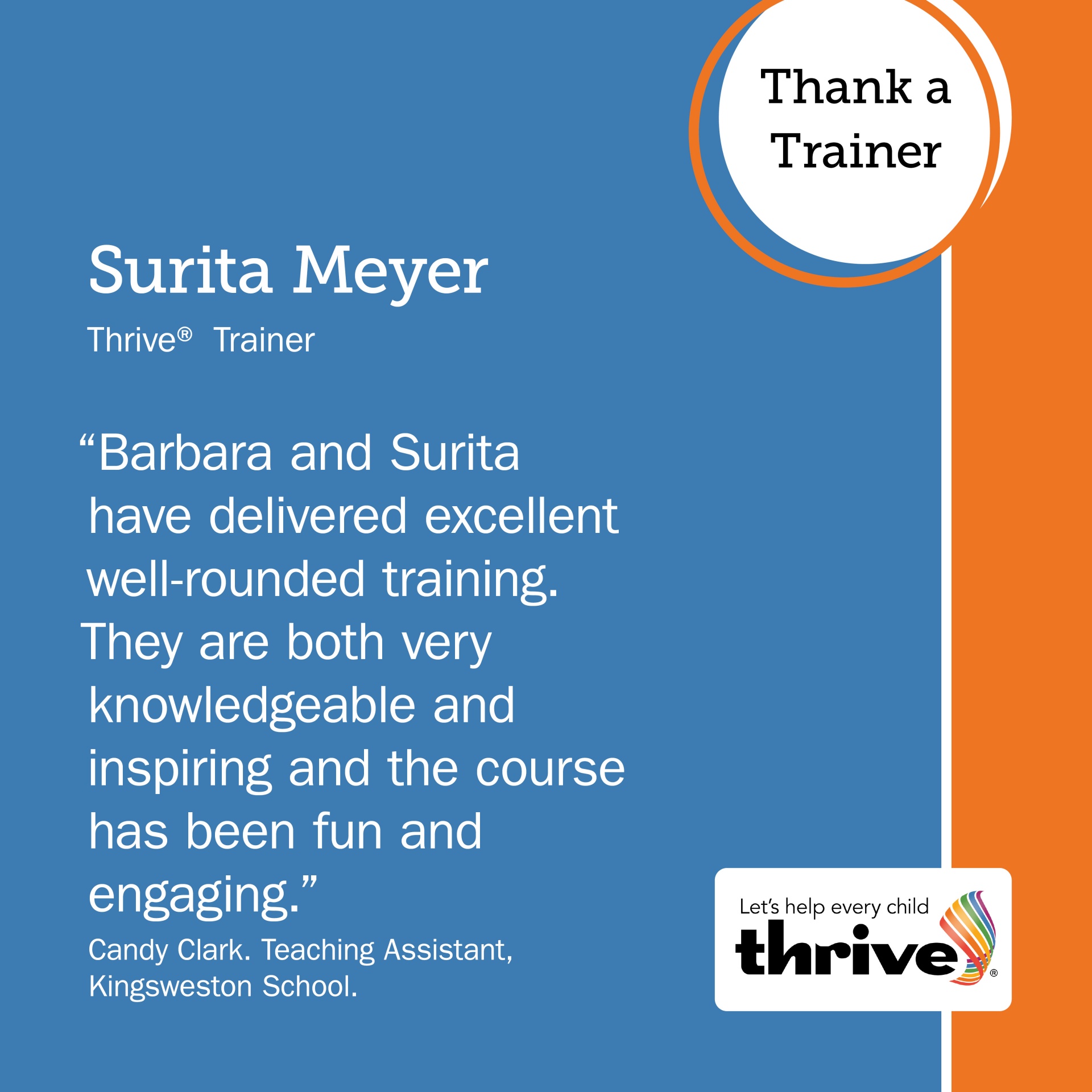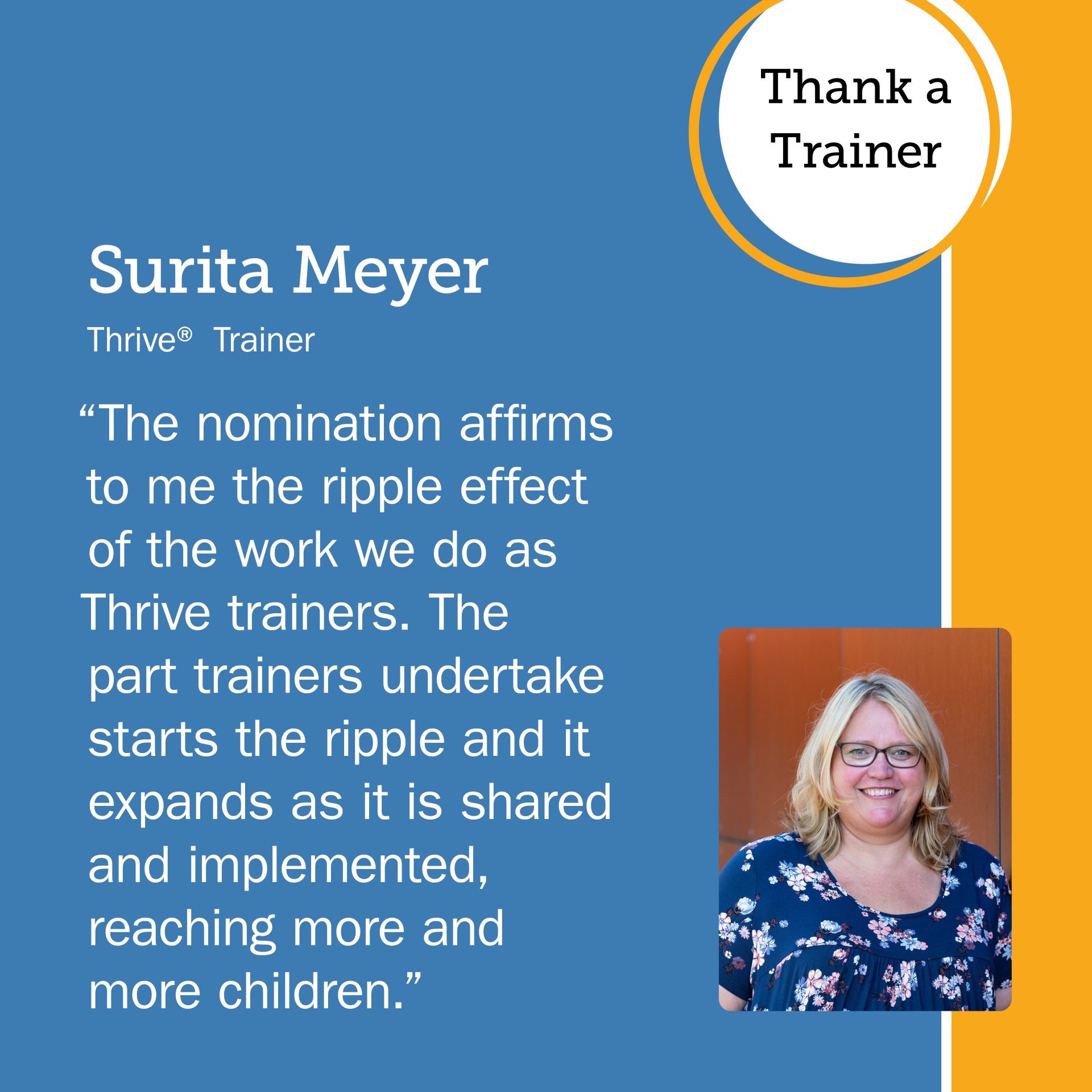 Q4. What about the schools your Thrive delegates work in? Can you share any examples of how they've been able to reduce exclusions, boost attendance or improve learning engagement and outcomes for the children and young people in their care?
Delegates have shared the positive impact that becoming a Thrive practitioner has had on them, the children they support and the setting they work in. Examples shared have included:
An increase in holistic working supporting children
Culture change in school - visibly seeing Thrive strategies being used and hearing change in language used when talking with and about children
Stronger relationships where children seek practitioners out when they begin to feel dysregulated as well as children in distress calming quicker
Positive feedback on the successful use of Thrive strategies
Increase in staff confidence in supporting children who are in distress.
Q5. What's the most rewarding aspect of being a trainer for Thrive?
The most rewarding aspect for me is being part of a team of trainers who are sharing a very important message that is having a positive impact on children's lives: being part of the ripple effect. If this excites you, I would recommend you to consider becoming a Trainer.
Q6. And finally, what advice would you have for someone on the fence about taking one of Thrive's training courses or embedding Thrive in their setting?
My advice would be to go for it. The courses are informative, interactive and fun. The Approach is grounded in research and the positive impact it has on pupils' progress is remarkable.
Having an approach which is targeted and measurable enabled us to demonstrate progress in young people with complex learning difficulties which otherwise may not have been evident.
The courses will also positively impact on your own wellbeing, enabling you to be more resilient when supporting children who are dysregulated and feeling distressed.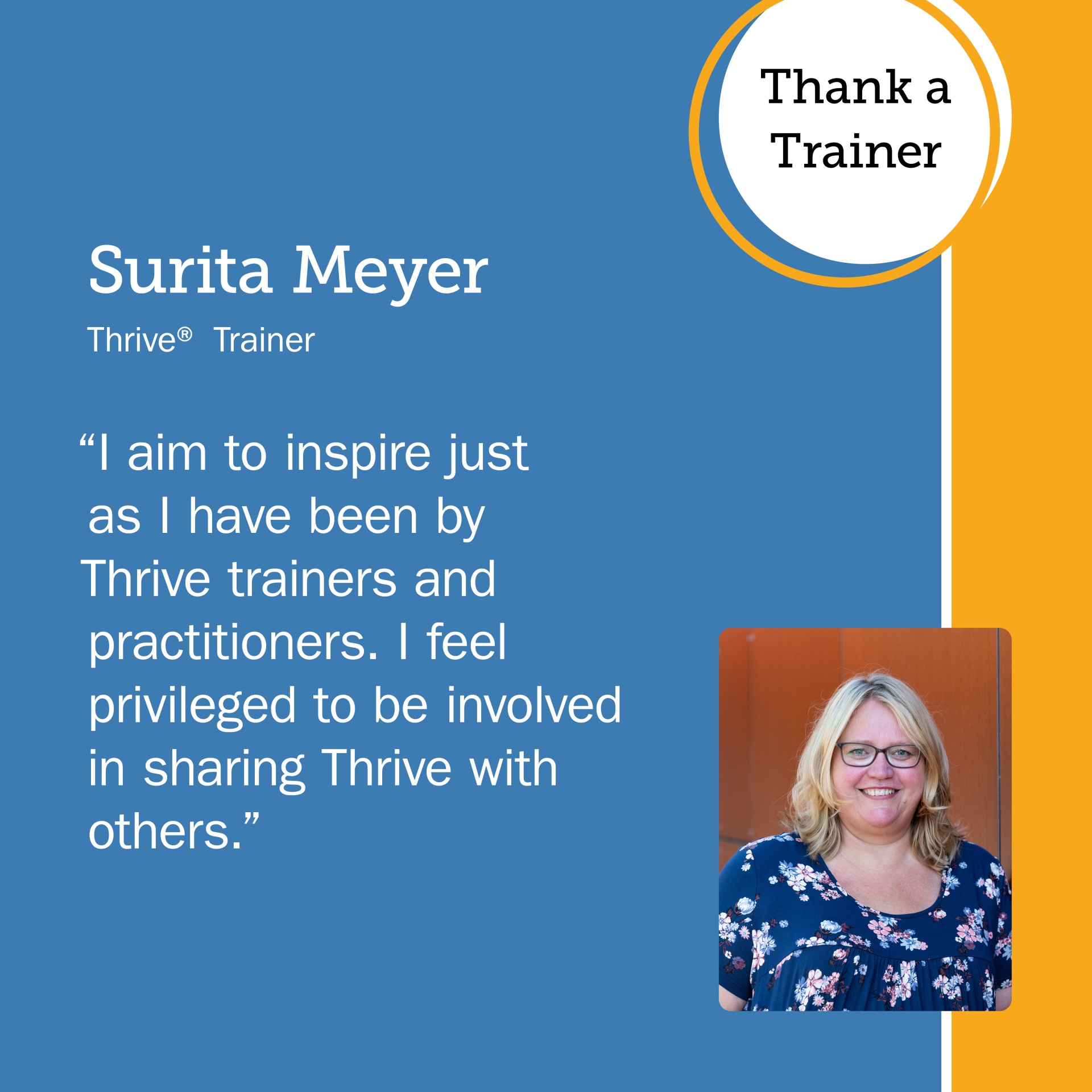 Over to you
Each month, Thrive will be inviting you to thank a trainer who has consistently demonstrated a high degree of excellence and delegate care. If you've experienced Thrive training and you'd like to thank your trainer, please do so here. If you're already a Thrive Licensed Practitioner and interested in learning more about becoming a Licensed Trainer, click here for the detail and to book or here to book a 20-minute Discovery Call with Jo Glazier from our Member Services Team. These calls are designed to fit in around your schedule and to give you an opportunity to have your questions answered. We want you to spend your time, your money and your energy wisely so Jo won't sell to you - but she'll help you decide whether or not our transformational Train the Trainer course is a fit.
Pass it on
Small actions can lead to a big ripple effect. If you enjoyed this post or found it helpful, please consider supporting us in our mission to help every child and young person feel safe, supported and ready to learn by sharing it using the social media buttons below.
Want to join a like-minded community of senior leaders and classroom staff benefitting from insights and strategies to improve attendance, behaviour and attainment? Add your email address below. (It's easy to unsubscribe).