"I felt overwhelmed by the number of children requiring support"
Each month, we celebrate the valuable role our Thrive trainers play and share messages of thanks from the delegates they've supported.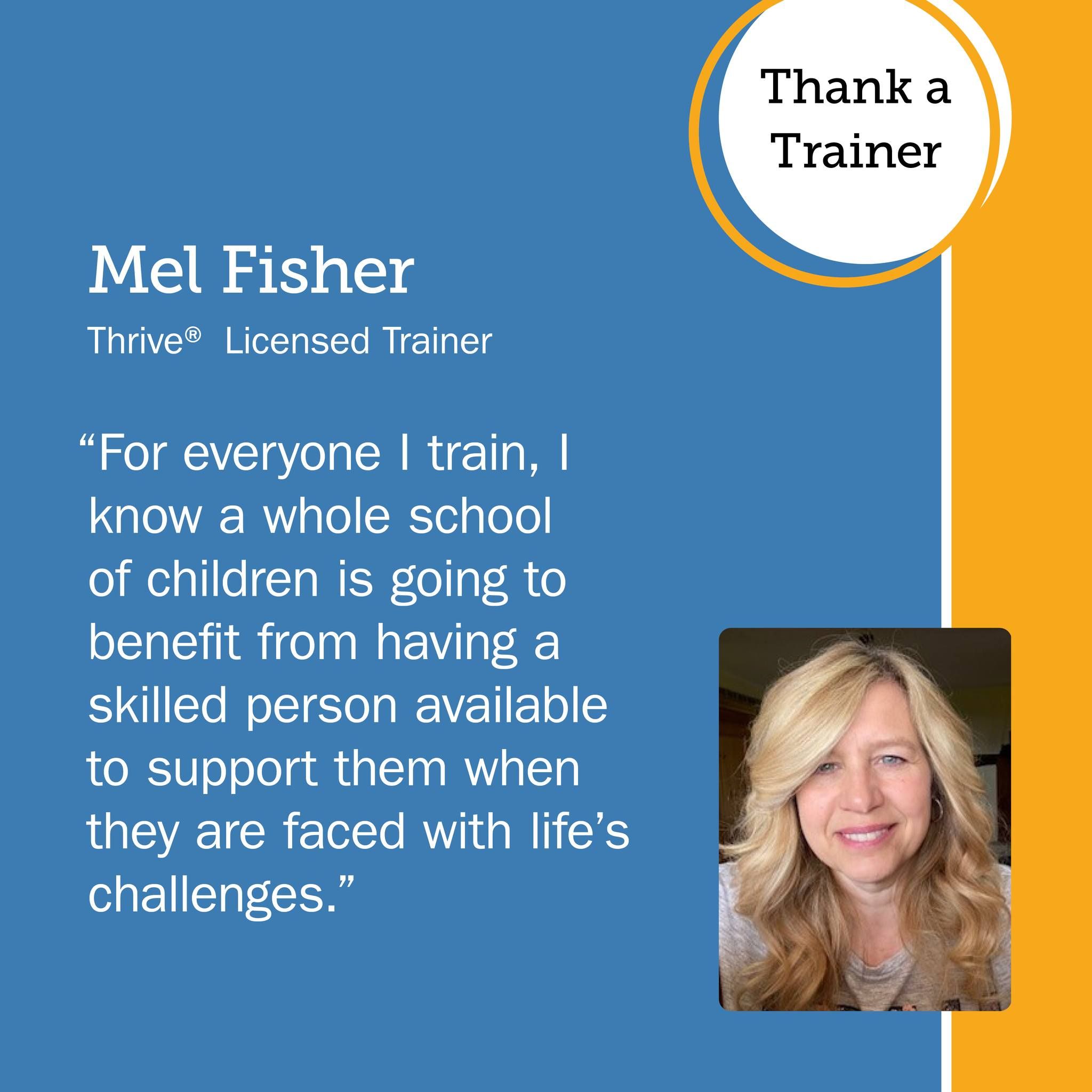 Thank a Trainer Interview: Mel Fisher
Q1. Please tell us about your career journey and what led you to becoming a trainer for Thrive.
I became a Thrive Licensed Practitioner in 2012 and saw first-hand the difference Thrive makes for children and young people. Through my Outreach work, I felt overwhelmed by the number of children requiring support and decided the best way to meet that need was to have more practitioners! So, I decided to become a trainer.
Q2. How do you feel about being thanked by your course delegates for the role you've played in their development?
Surprised, a bit embarrassed…and delighted! It's very important to me that I inspire people to love Thrive and become passionate about it. When this happens, I feel I've done my job well.
Q3. How does this nomination remind you of the impact you are having on the social and emotional development of children and young people?
For everyone I train, I know there is a whole school of children that is going to benefit from having a skilled person available to support them when they are faced with life's challenges.
In my role as a relationship manager, going into schools and seeing the difference they are making helps me appreciate the valuable work we all do.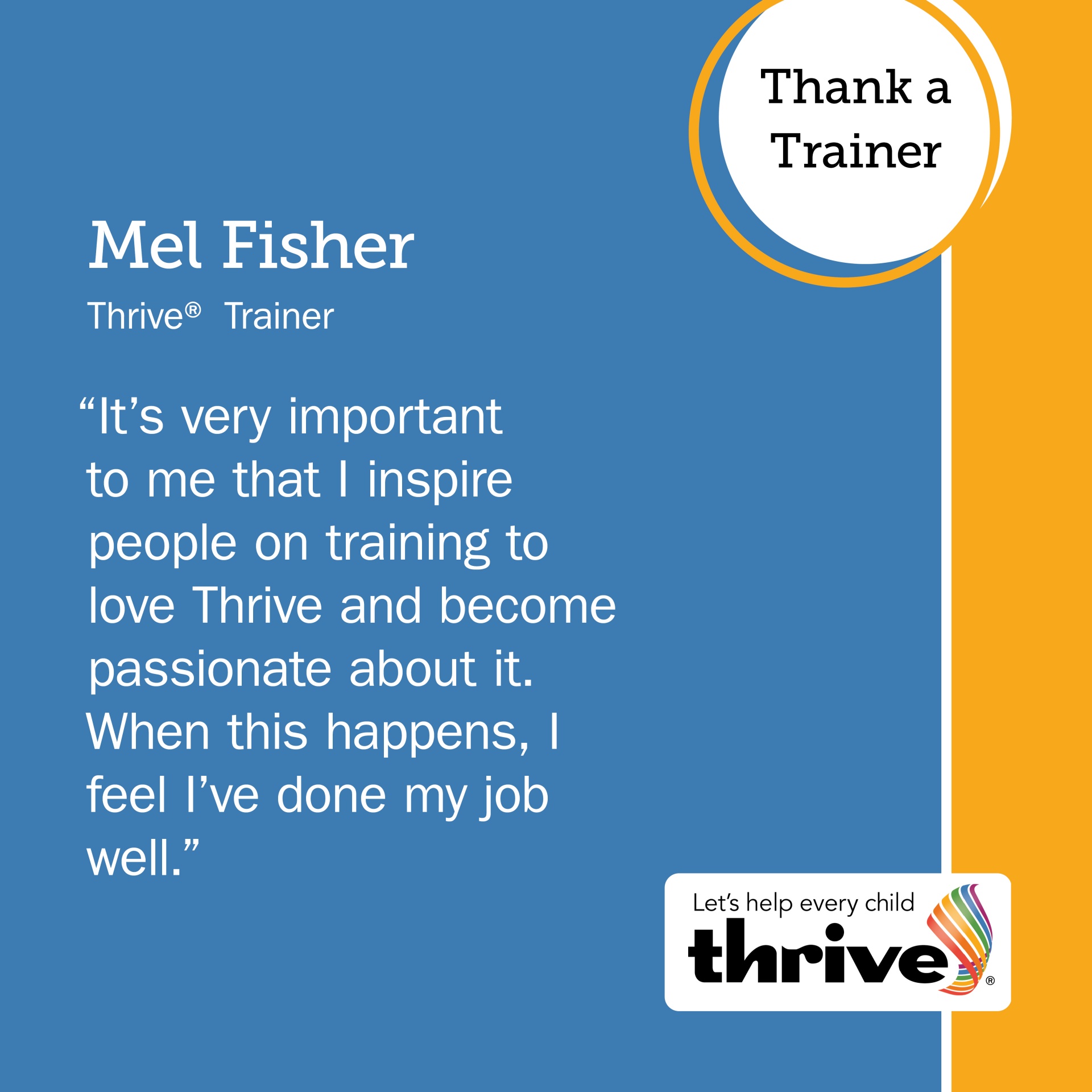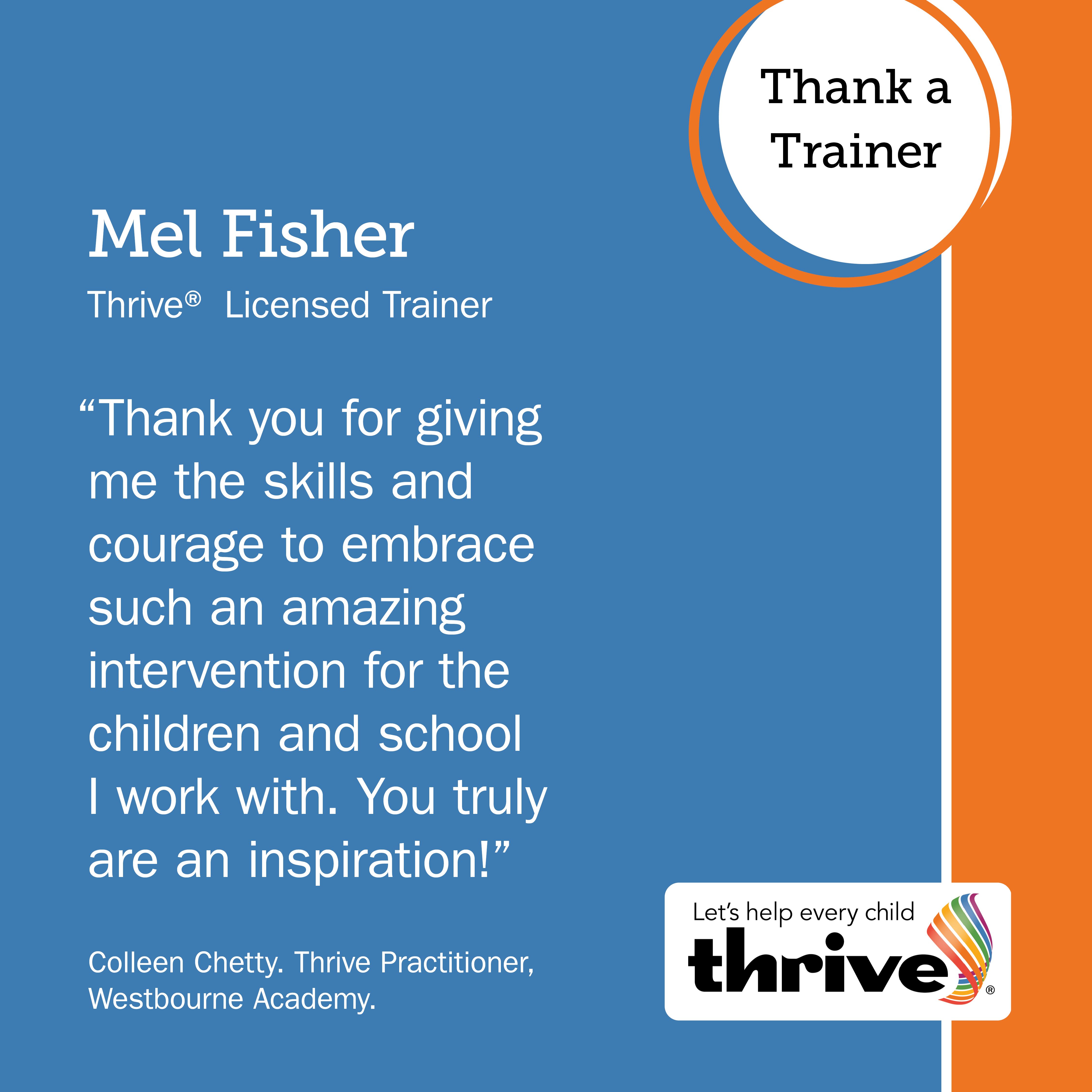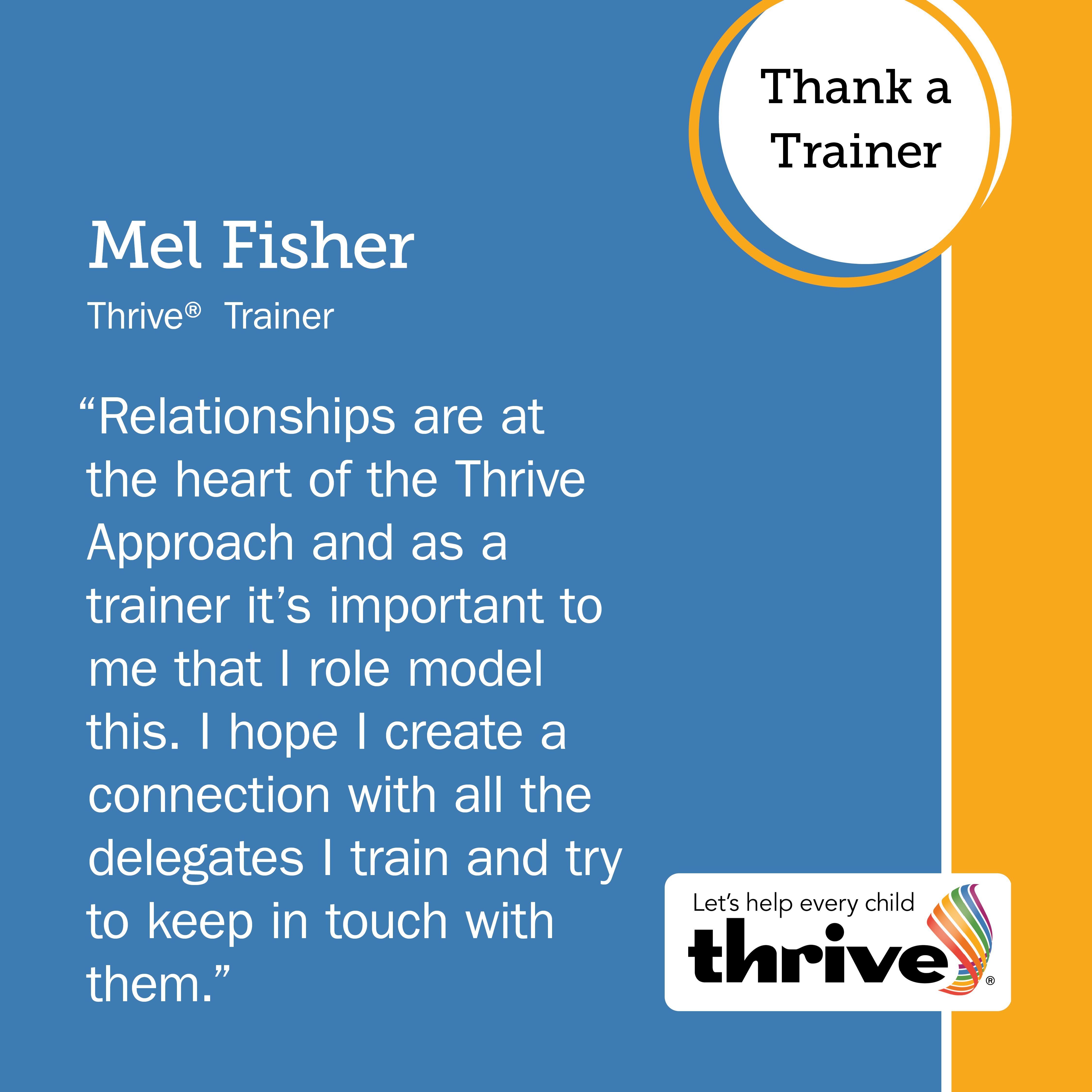 Q4. What about the schools your Thrive delegates work in? Can you share any examples of how they've been able to reduce exclusions, boost attendance or improve learning engagement and outcomes for the children and young people in their care?
It is my pleasure to support many schools to become Thrive Ambassador Schools. These schools are excelling in their Thrive work which means children feel confident enough to come into school, their attendance is good, they are accessing their learning, and their attainment is improving.
Children who have access to the Thrive Approach build better relationships with the adults who teach them. Happier children learn well, attend school regularly and know they will be supported when things go wrong.
I hear so many success stories for individual children and the impact of Thrive on whole schools. It's very rewarding and I'm grateful to be in the position I am, to train and support practitioners to achieve this.
Q5. Why should people consider becoming a Thrive trainer? What's been the most rewarding aspect for you?
I love the 'light bulb moments'. When you train a new group of practitioners, it's a magical moment for a trainer when they 'get it'. I love seeing the journey they go through to become Licensed Practitioners - for some it's quite profound and life changing.
Relationships are at the heart of the Thrive Approach and as a trainer it's important to me that I role model this. I hope I create a connection with all the delegates I train and try to keep in touch with them.
Q6. And finally, what 3 pieces of advice would you have for someone on the fence about taking one of Thrive's training courses or embedding Thrive in their setting?
Come with an open mind and heart
Believe you can do it and you will
Learning about Thrive will be the best course you ever do!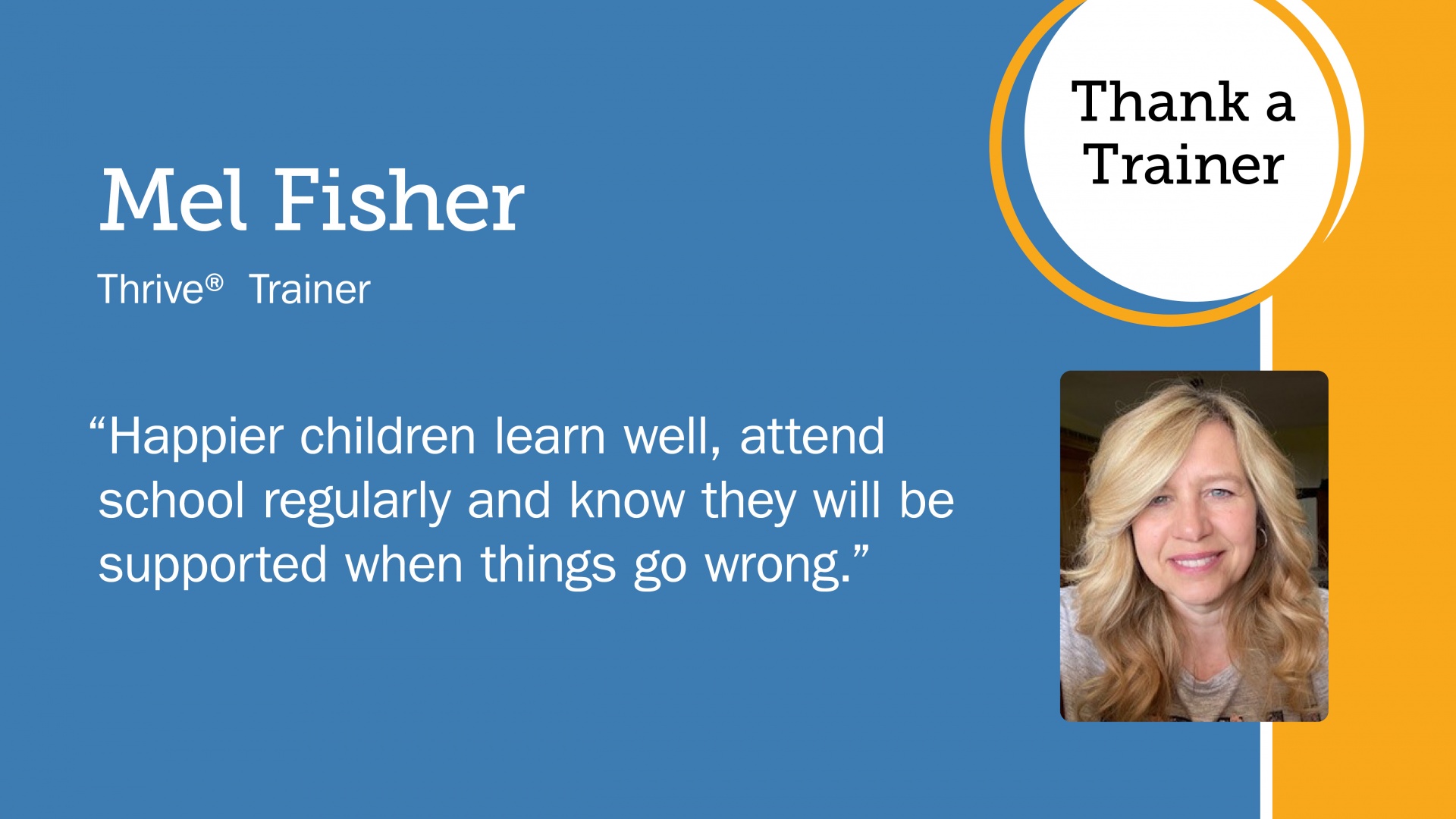 Over to you
Each month, Thrive will be inviting you to thank a trainer who has consistently demonstrated a high degree of excellence and delegate care. If you've experienced Thrive training and you'd like to thank your trainer, please do so here. If you're already a Thrive Licensed Practitioner and interested in learning more about becoming a Licensed Trainer, click here for the detail and to book or here to book a 20-minute Discovery Call with Jo Glazier from our Member Services Team. These calls are designed to fit in around your schedule and to give you an opportunity to have your questions answered. We want you to spend your time, your money and your energy wisely so Jo won't sell to you - but she'll help you decide whether or not our transformational Train the Trainer course is a fit.
Pass it on
Small actions can lead to a big ripple effect. If you enjoyed this post or found it helpful, please consider supporting us in our mission to help every child and young person feel safe, supported and ready to learn by sharing it using the social media buttons below.
Want to join a like-minded community of senior leaders and classroom staff benefitting from insights and strategies to improve attendance, behaviour and attainment? Add your email address below. (It's easy to unsubscribe).