"I had a natural affinity for working with the children who needed the most support"
Each month, we celebrate the valuable role our Thrive trainers play and share messages of thanks from the delegates they've supported.
Melanie Jopling became a Thrive Licensed Practitioner in 2013. After falling in love with the Approach and wanting to help get Thrive into more settings, Melanie embarked on the Train the Trainer course and has enjoyed every moment since.
We interviewed Melanie as part of our Thank a Trainer campaign following her nomination from Samantha Higgins.
Samantha is a Higher Level Teaching Assistant and Thrive Licensed Practitioner at St Andrew's C of E Primary School, in Essex.
Read on to discover what Melanie finds most rewarding about being a Thrive trainer and the advice she'd give to anyone on the fence about embedding the Approach.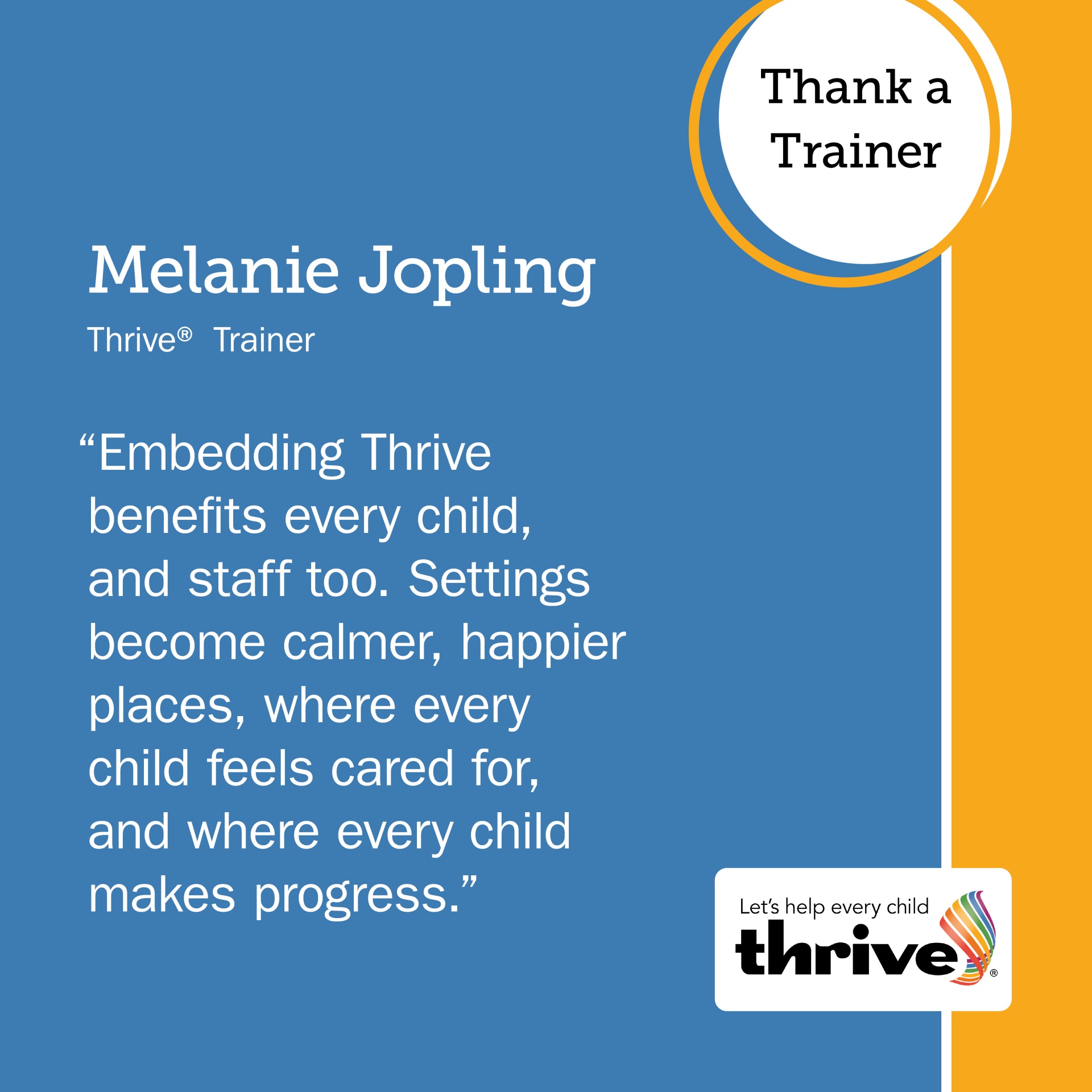 Thank a Trainer Interview: Melanie Jopling
Q1. Please tell us about your career journey and what led you to becoming a trainer for Thrive.
I became a teacher in 1999, after deciding that my previous career wasn't making a difference to people's lives. I found through teaching that I had a natural affinity for working with the children who needed the most support, both academically, and socially and emotionally, so I became a SENCo.
In 2013, I was lucky enough to come across the Thrive Approach. Following a conversation with Viv Trask-Hall, Head of Innovation in Education and Principal Trainer at Thrive, I made the decision to go on the Licenced Practitioner course.
I totally fell in love with the Approach, and became quite evangelical about it, telling all and sundry what a difference it makes. In 2017, I decided to apply for the Train the Trainer course so that I could help to get Thrive into more settings and have loved every moment of being a Thrive trainer ever since!
Q2. How do you feel about being thanked by your course delegates for the role you've played in their development?
To be thanked for my part in a licenced practitioner's journey is humbling. It is an absolute honour to be a Thrive trainer, to be there at the start of a delegate's journey, being alongside as they develop into amazing practitioners, this brings me joy.
Q3. How does this nomination remind you of the impact you are having on the social and emotional development of children and young people?
To know that I am a small part of the network of wonderful people who make a lasting impact on the social and emotional development of children and young people makes it all worthwhile. The reason I became a trainer was to support others to make a difference, and it is wonderful to be part of the process.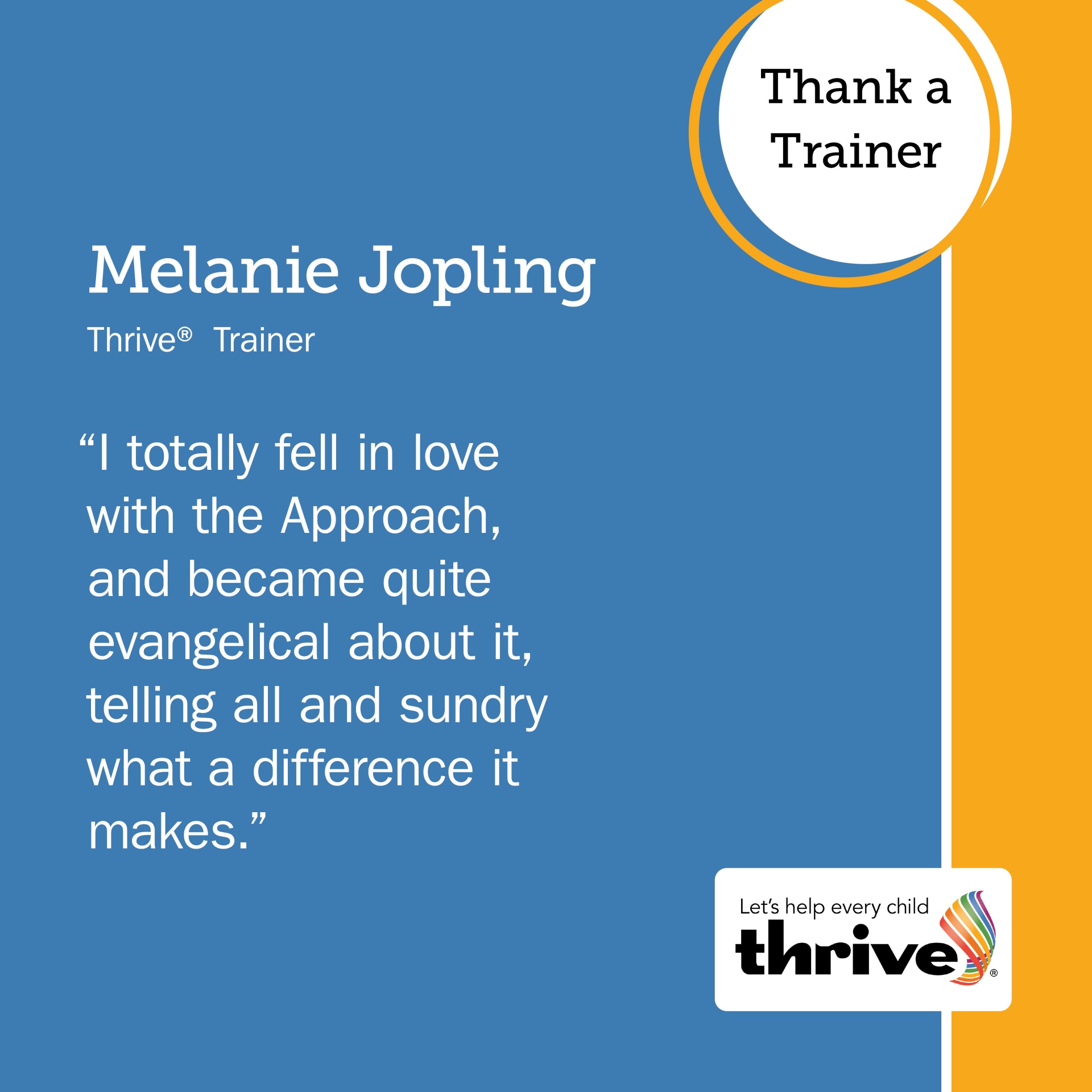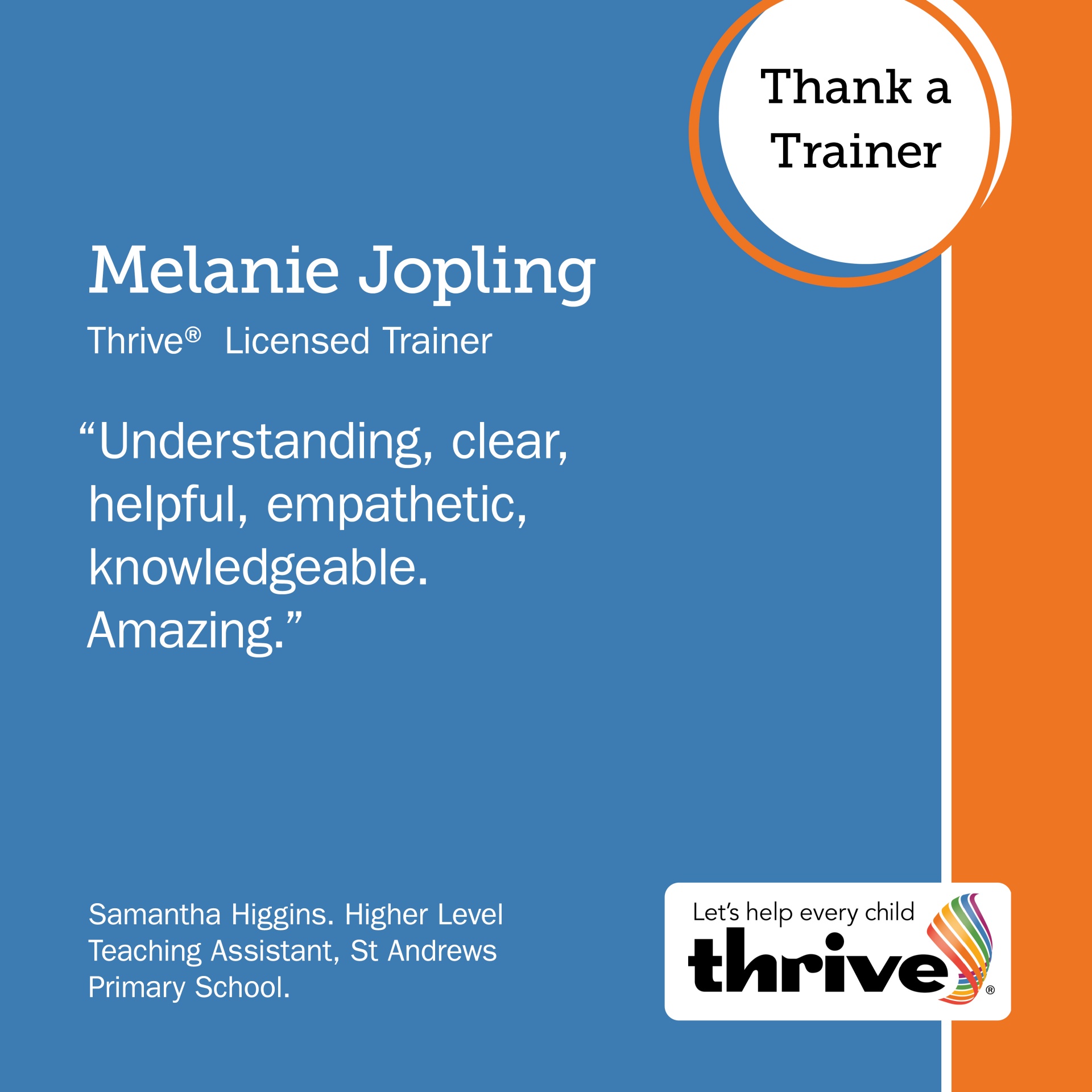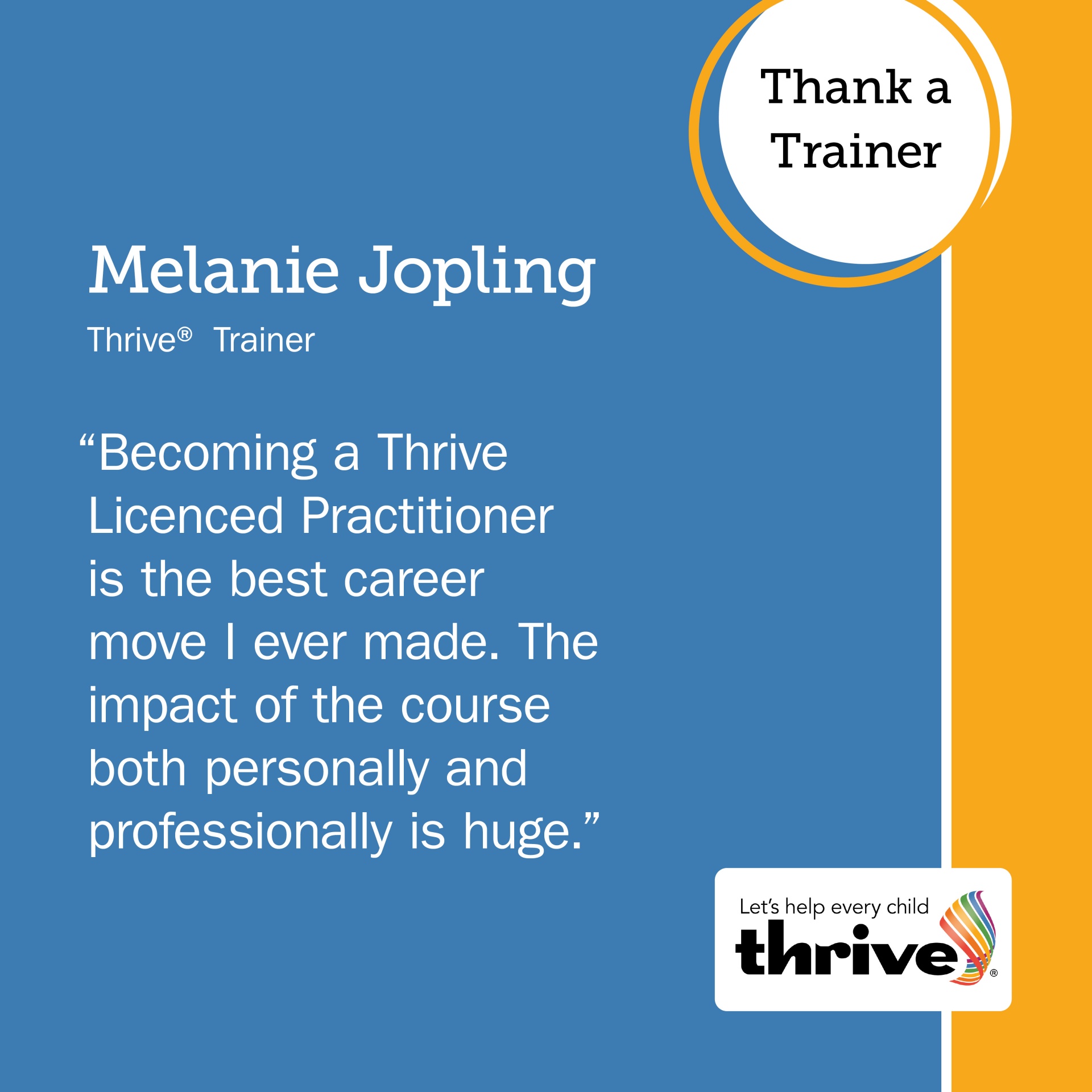 Q4. Why should people consider becoming a Thrive trainer? What's been the most rewarding aspect for you?
If you are truly passionate about Thrive and you enjoy working with adults, becoming a Thrive trainer is a great opportunity to enable others to become part of the Thrive family.
Over the past few years, I have got to know many of the other trainers, all of whom are fabulous! The final day of each course I run is always rewarding, I am so full of pride for the delegates as they share their journeys and successes, knowing that they are already making a difference to the children and young people they work with.
I also love the chance to catch up with delegates I have trained over the years at CPD sessions, it is always great to hear how they are getting on.
Q5. And finally, what advice would you have for someone on the fence about taking one of Thrive's training courses or embedding Thrive in their setting?
Becoming a Thrive Licenced Practitioner is the best career move I ever made. The impact of the course both personally and professionally is huge.
Attend a
Virtual Thrive School Open Event
or talk to local practitioners to gain an understanding of how Thrive looks in practice, and how it can benefit your setting.

Embedding Thrive benefits every child, and staff too. Settings become calmer, happier places, where every child feels cared for, and where every child makes progress, socially, emotionally and academically. If in doubt, go for it, you won't regret it!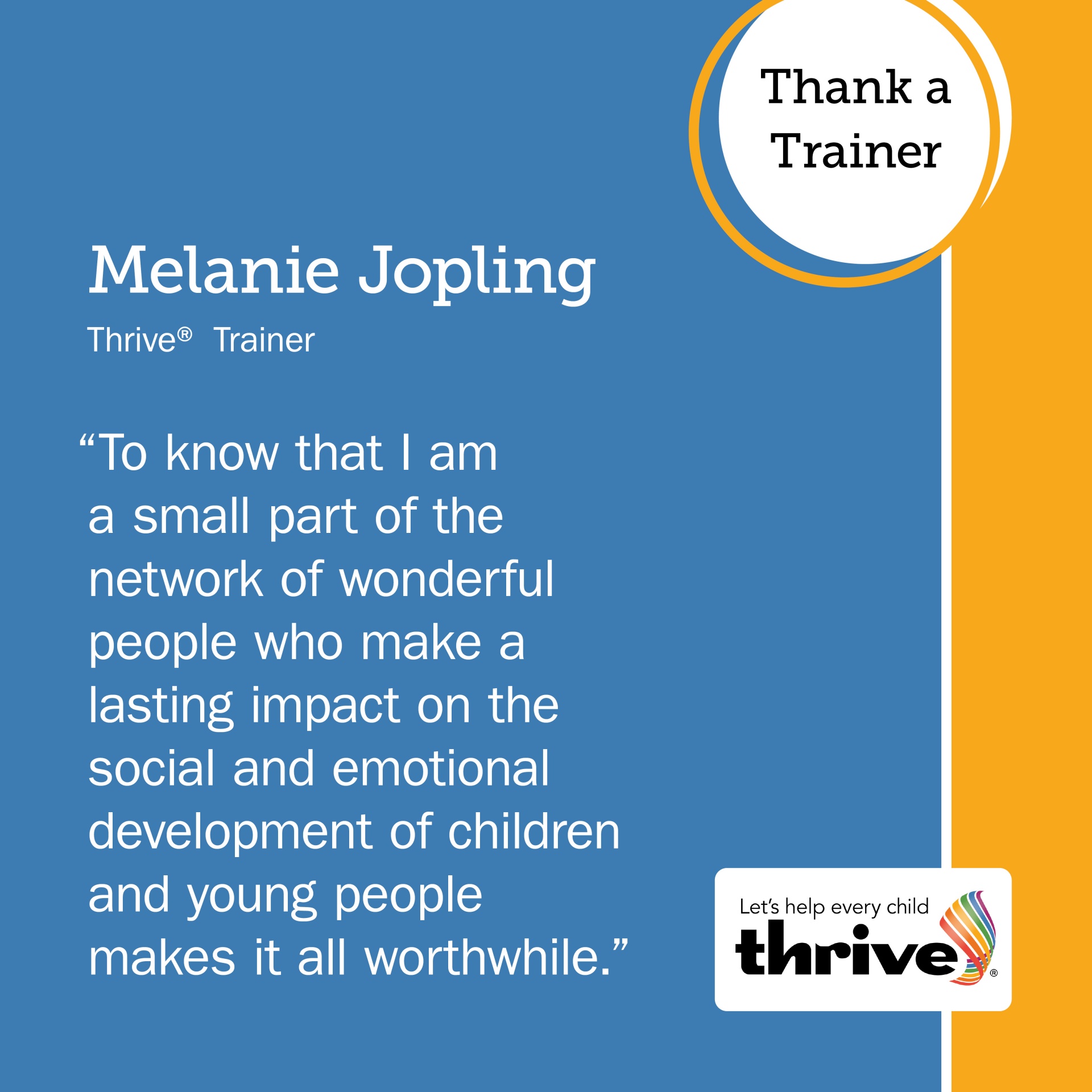 Over to you
Each month, Thrive will be inviting you to thank a trainer who has consistently demonstrated a high degree of excellence and delegate care. If you've experienced Thrive training and you'd like to thank your trainer, please do so here. If you're already a Thrive Licensed Practitioner and interested in learning more about becoming a Licensed Trainer, click here for the detail and to book or here to book a 20-minute Discovery Call with Jo Glazier from our Member Services Team. These calls are designed to fit in around your schedule and to give you an opportunity to have your questions answered. We want you to spend your time, your money and your energy wisely so Jo won't sell to you - but she'll help you decide whether or not our transformational Train the Trainer course is a fit.
Pass it on
Small actions can lead to a big ripple effect. If you enjoyed this post or found it helpful, please consider supporting us in our mission to help every child and young person feel safe, supported and ready to learn by sharing it using the social media buttons below.
Want to join a like-minded community of senior leaders and classroom staff benefitting from insights and strategies to improve attendance, behaviour and attainment? Add your email address below. (It's easy to unsubscribe).