"As a trainer, you have the power to reach more settings and more young people."
Every year, an intimate cohort of Thrive Licensed Practitioners take their understanding and personal development to a whole new level. If you're a Licensed Practitioner with at least 6 months' experience using Thrive, our advanced Train-the-Trainer course may be a fit. We caught up with 5 of our Licensed Trainers to understand what had inspired them to make the leap.
Q. Why should people consider becoming a Thrive Trainer and what would you say has been the most rewarding aspect for you?
"If you are truly passionate about Thrive and you enjoy working with adults, becoming a Thrive trainer is a great opportunity to enable others to become part of the Thrive family. Over the past few years, I have got to know many of the other trainers, all of whom are fabulous! The final day of each course I run is always rewarding, I am so full of pride for the delegates as they share their journeys and successes, knowing that they are already making a difference to the children and young people they work with. I also love the chance to catch up with delegates I have trained over the years at CPD sessions, it is always great to hear how they are getting on."
"As a practitioner, you know you can make a difference in your setting. But as a trainer, you have the power to reach more settings and therefore more young people. This means more young people will be met with positive connections and learn how to form secure relationships."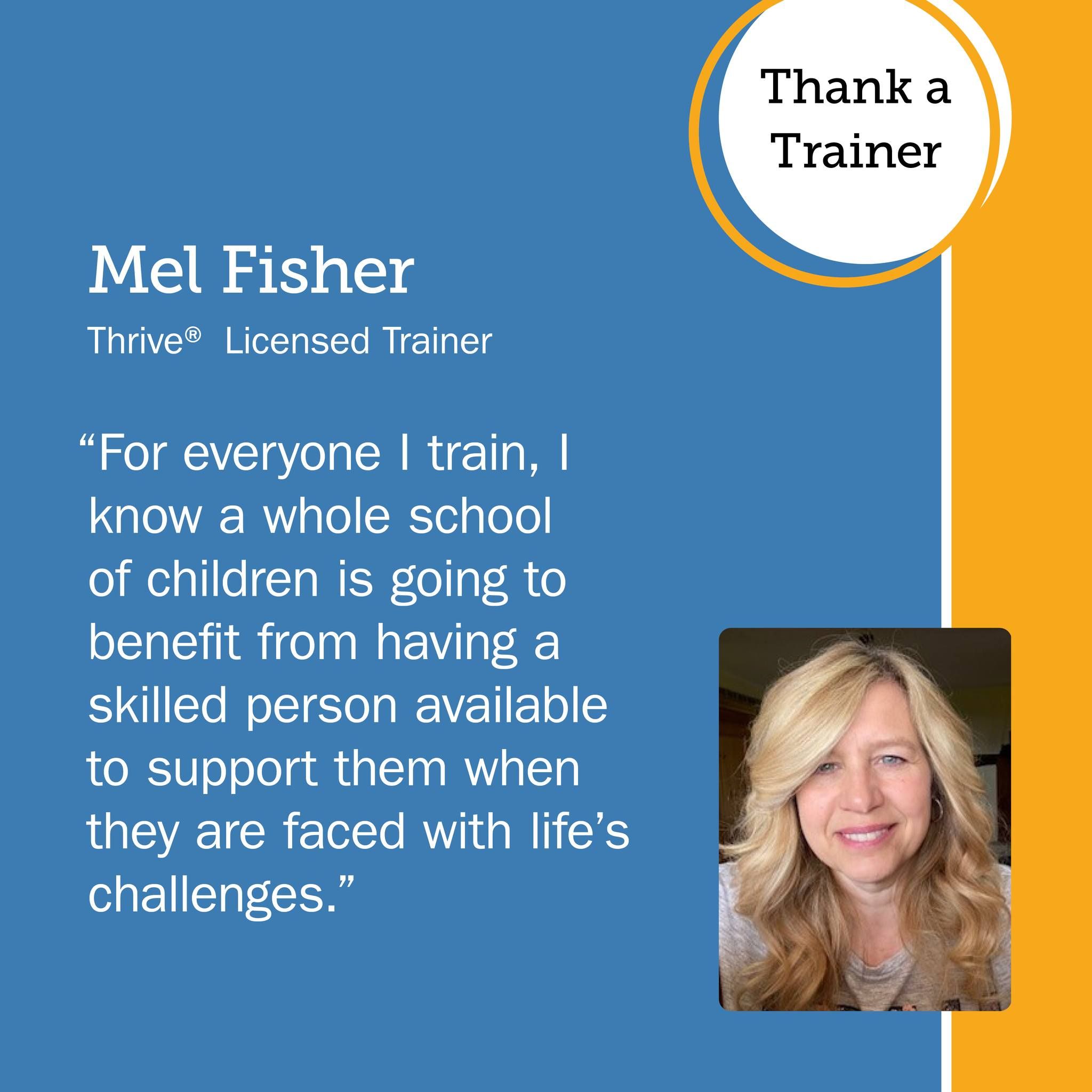 "I think becoming a Thrive trainer has facilitated a really self-reflective journey, as well as creating the most amazing opportunity to meet many people that I now call friends; fellow trainers that I continue to learn so much from and with. The other rewarding aspect is that we are constantly learning, getting the most up to date information around neuroscience and how we can use this information to support adults and children alike."
"I love the 'lightbulb moments.' When you train a new group of practitioners, it's a magical moment for a trainer when they 'get it'. I love seeing the journey they go through to become Licensed Practitioners. For some it's quite profound and life changing."
"Thrive transformed how I work with young people and how I relate to myself. I wanted to become a trainer to encourage more people to take this transformational step."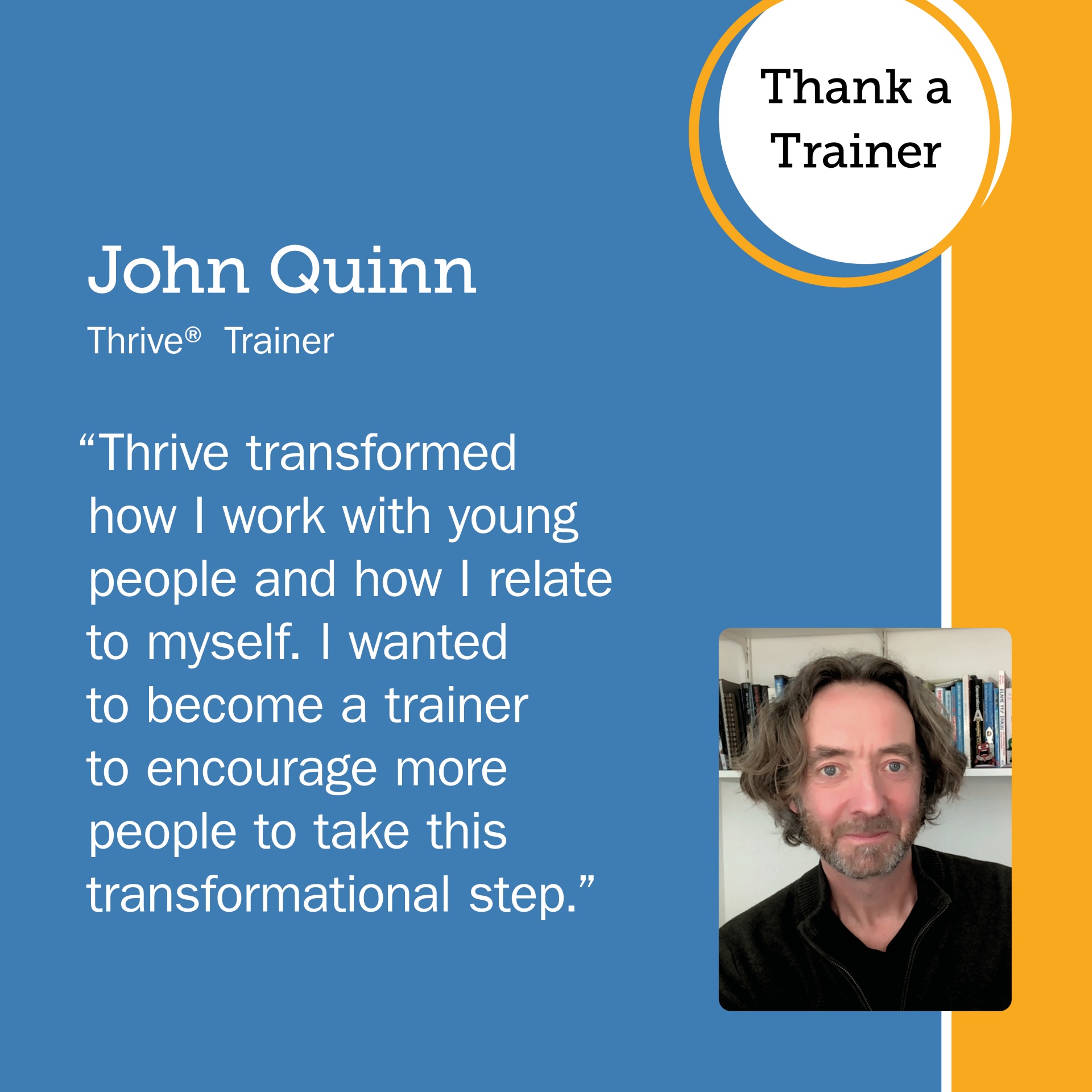 Over to you
If you've been a Thrive Licensed Practitioner for over 6 months and are ready to encourage more people to take this transformational step, click here to find out more and to book. If you'd love to reach more settings and young people with Thrive but are in two minds about booking onto our Train-the-Trainer course, click here to book a 20-minute Discovery Call with Jo Glazier from our Member Services Team. These calls are designed to fit in around your schedule and to give you an opportunity to have your questions answered. We want you to spend your time, your money and your energy wisely so Jo won't sell to you - but she'll help you decide whether or not this course is a fit.
Pass it on
Small actions can lead to a big ripple effect. If you enjoyed this post or found it helpful, please consider supporting us in our mission to help every child and young person feel safe, supported and ready to learn by sharing it using the social media buttons below.
Want to join a like-minded community of senior leaders and classroom staff benefitting from insights and strategies to improve attendance, behaviour and attainment? Add your email address below. (It's easy to unsubscribe).