Recognition for outstanding commitment to pupil wellbeing
Hagley Primary School has been named as a Thrive School of Excellence and praised by Ofsted for the role it plays in supporting the wellbeing of its pupils, in order to build resilience and help prevent mental health issues.  
The school has 630 pupils and is based in Hagley, near Stourbridge. It has been named as a School of Excellence after going through a rigorous assessment process with Thrive.
Thrive School of Excellence
"Hagley Primary School is absolutely delighted to receive the Thrive School of Excellence award and also to have the school's focus and success on wellbeing recognised and celebrated in our very recent Ofsted inspection. Children and adult mental health and wellbeing is a pivotal focus of our work in school. We are proud of our achievements and will be ensuring that our practice continues to grow, evolve and become further embedded both within and beyond the curriculum," said Headteacher Vanessa Payne.
The Thrive School of Excellence award recognises extraordinary schools that are making a positive impact on their pupils, and on the wider community, by prioritising emotional wellbeing. The award is the highest level of achievement in Thrive's Ambassador Schools scheme, which was launched in 2020 as a way of recognising excellence in member schools.
There are five areas in which schools can evidence how they use Thrive to support children's social and emotional development: Environment, Leadership, Right-time, Reparative and Relationship, with the School of Excellence award reserved for schools that achieve the highest standard across all five categories.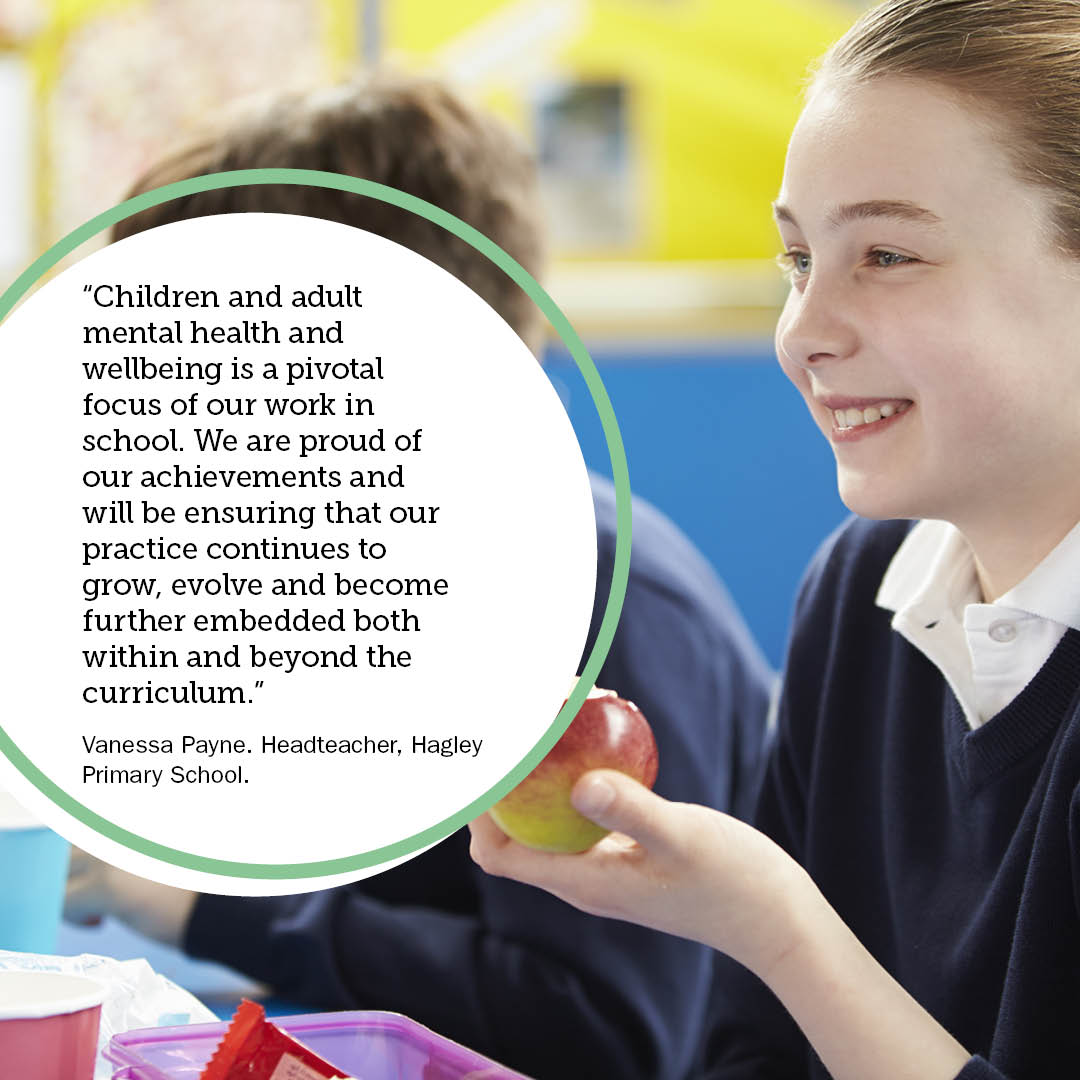 Councillor Tracey Onslow, cabinet member with responsibility for Education at Worcestershire County Council said: "It's great for one of our schools to be recognised as a school of excellence in mental wellbeing by both Ofsted and the Thrive Approach, and I'd like to offer my congratulations to the staff and students at Hagley Primary School on their award. Mental wellbeing is important for everyone, at all ages. I'm really pleased to see our schools are educating their pupils on the importance of starting and then keeping the conversation and support going about emotional wellbeing and resilience."

Behaviour rated as 'outstanding' by Ofsted
Hagley's School of Excellence award coincides with its latest Ofsted report which has an overall Good rating, with Outstanding ratings for Behaviour and Attitudes, Personal Development and Leadership and Management.
The report says: "All pupils benefit from the Thrive Approach used by staff. This has played an important part in supporting pupils' mental health and wellbeing. Behaviour across the school is excellent. Staff have high expectations which pupils live up to. They work with focus enthusiasm and perseverance."
"Hagley has done a brilliant job of making the benefits of Thrive a reality for all pupils and stakeholders in their community. The children feel safe as a result of the staff's use of Thrive's relational approach and they have their social and emotional needs met to reach their potential as the best learners they can be. Hagley continues to move from strength-to-strength with Thrive and is well-deserving of their School of Excellence achievement," said Elizabeth Brais, Thrive's Relationship Manager for Central and North Central.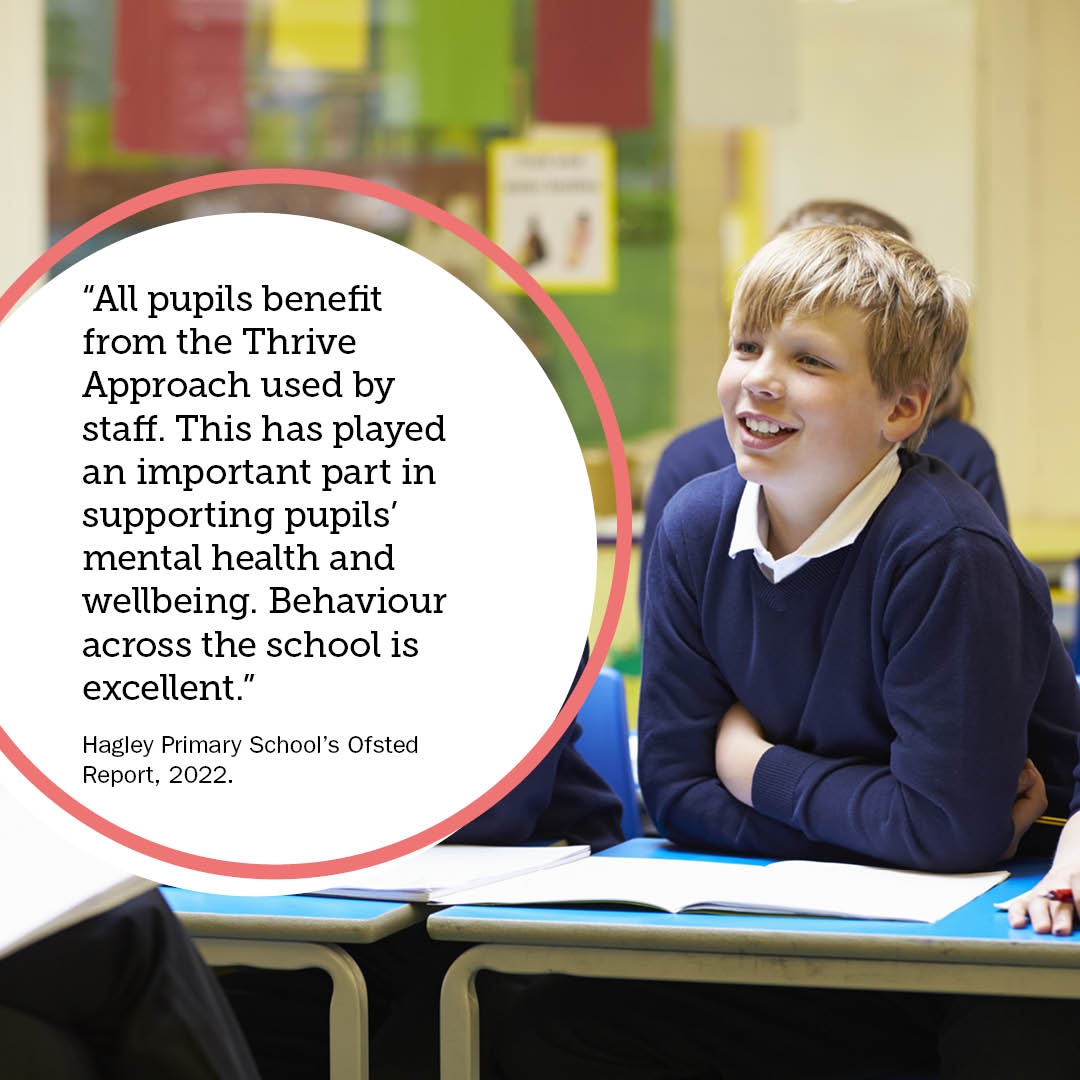 Over to you
Used in conjunction with Thrive's training, Thrive-Online is the award-winning profiling and assessment tool that has helped Hagley Primary School achieve 'outstanding' ratings from Ofsted. It's supported over 50,000 other educators to improve wellbeing, attendance, behaviour and attainment too. Are you ready to join them? Click here to schedule your free Thrive-Online demo.
Pass it on
Small actions can lead to a big ripple effect. If you enjoyed this post or found it helpful, please consider supporting us in our mission to help every child and young person feel safe, supported and ready to learn by sharing it using the social media buttons below.
Want to join a like-minded community of senior leaders and classroom staff benefitting from insights and strategies to improve attendance, behaviour and attainment? Add your email address below. (It's easy to unsubscribe).