A comprehensive programme of wellbeing and mental health initiatives
At the recent Tes Schools Awards, a Thrive school, Thornbury Primary School, in Plymouth, won the School of the Year for Pupil Wellbeing award. The school wowed the judges with their innovative schemes and whole school approach. Wellbeing is threaded through the school and is the first consideration in all decision-making. It guides all interactions the staff have with the children, from morning routines and how admin staff greet parents on the phone, to the training of pupil leaders and staff. There is a comprehensive programme of wellbeing and mental health initiatives, including regular mental health and wellbeing assessments for each child. We talked to the school's Assistant Headteacher and Thrive Licensed Practitioner Heidi Turner to find out more.
Q) How did you feel when it was announced that Thornbury Primary School had won the award?
A) It was a bit of a shock! The awards event was a much bigger occasion than we thought it would be. We didn't think we would even get shortlisted so when our name was called out, it was unbelievable!
Q) What is your ethos around pupils' mental wellbeing?
A) The award was for the best wellbeing initiative in school but almost the first thing our headteacher said in our entry was that wellbeing is not an initiative here – it's something we do right across the school, it runs through us like a stick of rock. Wellbeing is the first consideration for any decision we make and it runs through absolutely everything - it's at the crux of what we do as a school. For us, wellbeing is a whole school approach.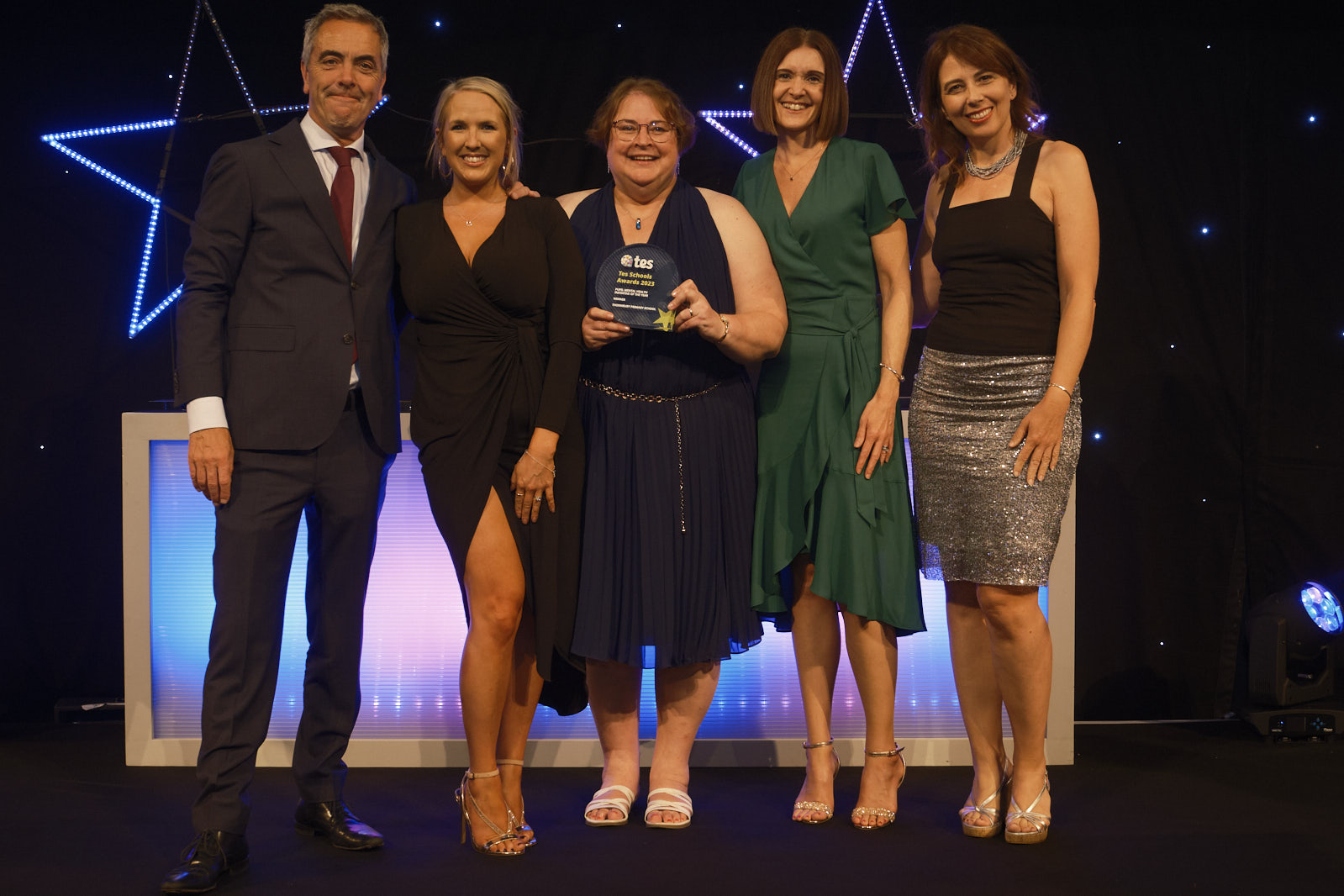 Q) What specific things to you do to help pupils with their wellbeing?
A) We focused on several things in our entry. One of them was our 'Animal Aces' scheme where specific skills or abilities are referenced in terms of an animal. It might be that they are a Friendly Otter or a Balanced Beaver. It's relatable to children and it can be applied to academic and social skills. It gives children a voice and the language to be able to talk about how they are feeling. It opens up conversations.
We became a Thrive school in 2017 and we deliver Thrive training to staff in school so that everyone is consistent in their approach and their language. We changed our behaviour policy to a relationship and behaviour policy and we have regular meetings to talk about the cohorts and individual children. When children start the year with a new teacher, we have a rights and responsibilities charter that makes clear what adults and children will do to support each other. For example, adults will provide a safe environment and they will be someone to talk to for pupils. Children agree to look after each other and treat each other with respect. Then both adults and children sign the charter so it's clear what is expected of everyone.
In classes, teachers have a worry box, which they check each day. The children can put their name in the worry box and the teacher can check in on them to make sure they are OK. Each class also has a Moments that Matter book that the children contribute to. This could be happy things like a photo of themselves being a bridesmaid, or it could be something sad that has happened, like a family pet dying. It means that teachers know what's going on in children's lives and they can give them extra support, if they need it.
Our headteacher has a shelf full of soft toy dogs in her office, and anyone who is feeling a bit upset or is having a bad day can go and see her to get a worry puppy to look after for the day. She has an open door approach and that sets the tone for the way that everyone else responds to the children.
Those are the sort of everyday, universal things we do. We also have a Language Support Centre as part of our school, so we have children across the school who find communicating challenging. It means that the children get used to being inclusive – it's something that just happens around them every day. The next level of wellbeing support is more based around interventions. This would start with an informal approach where a parent/carer or member of staff would talk to the inclusion team about a child and we would consider how to respond. Then we may consider a more formal approach to support which might include referring a child for one-to-one Thrive sessions or external support.
We have also set up a morning nurture club for children who are finding transition into school in the morning a challenge and struggle to separate from their parent/carer. A teaching assistant arrives early, and will do an activity with these children to help them feel more comfortable about coming into school. We've found that this has worked well this year and these children are now more settled and happy to come in. For example, one child would not get out of the car in the mornings, and would need staff and parents support to get into the building, and he is now coming in independently every day.
We recognise that it is important to consider pupil voice and build relationships with parents and carers. Good relationships with parents and carers mean it's easier to have challenging conversations if you need to. For us, we've found having an open morning each term for parents and carers has been effective. We invite them in to spend time in lessons with their children and then we'll all have a cup of tea together and we'll do a workshop around a topic, which recently was our whole school approach to mental health and wellbeing.
Q) Why do you place such a strong emphasis on wellbeing and what impact has it had?
A) It's something that we've done for years, it's not new to us. Possibly over the last few years, particularly since we started Thrive, it's brought it to the forefront. All the research points to the importance of looking after children's emotional wellbeing, because if we don't then they won't be able to or ready learn.
Q) What advice would you give to settings that want to improve their offering around pupil wellbeing?
A) Look at what you're already doing. Every school is different and will already be doing something around mental health and if you start from this point then it makes it manageable. If you try to start from scratch, then mental health can seem like a huge and complex area but if you start by making tweaks to what you're already doing then you can make a lot of small improvements. Little things that we have found that have helped include how we greet children every day. It is amazing how important the little things are and how they can build relationships. It's very hard working in a school because you're thinking about everything you have to do that day, but if we try to remember to do those little things, it has a big impact.
Personally, I found the Senior Mental Health Lead training was useful – it helped me to step back, really look at what we're doing as a school and make an action plan our next steps.
Over to you
Click here to schedule a Discovery Call with your regional expert to find out how Thrive could help boost pupil wellbeing in your setting. Designed to fit in around your schedule, these free 30-minute conversations via Teams give you a chance to have your questions answered and decide if our service is a fit for your needs.