Digital Education Awards 2022
Thrive has been named global winner of the Digital Health and Wellbeing Learning Product of the Year Award and the Gold Award at the 2022 Digital Education Awards.
The Awards recognise the best digital people, products and platforms that are driving quality education and lifelong learning across the world. Of the 79 that applied from 16 countries around the world, 33 were shortlisted and 11 were chosen as winners by a board of international experts from all aspects of the EdTech industry.
As well as being recognised as Digital Health and Wellbeing Learning Product of the Year, Thrive received the Gold Award, which is given to the overall winner across the categories.
Why Thrive?
For over 25 years Thrive's unique approach to wellbeing has been proven to make a positive impact on children and young people's learning and lives.
Thrive offers training, online assessments, and expert strategies for working with pupils to improve attendance, behaviour and attainment (as well as supporting staff wellbeing).
To date, over 50,000 staff in 2,800 schools and settings have received Thrive training, ensuring that more than 600,000 children and young people aged 0-25 have access to the Thrive Approach.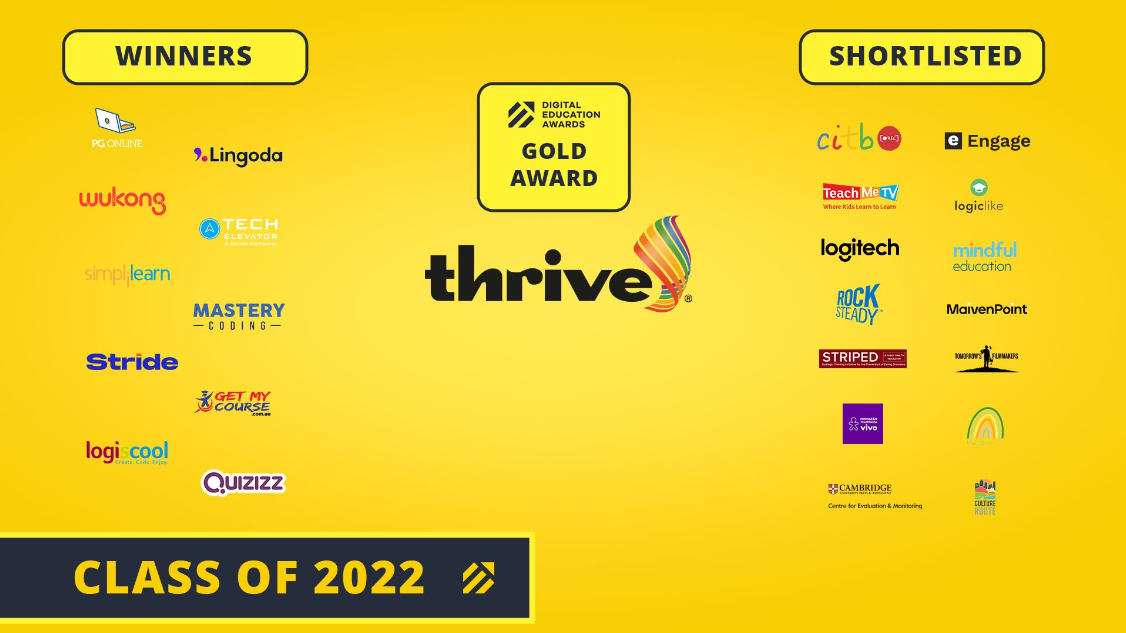 Over to you
If you'd like to take attendance, behaviour and attainment to the next level in your setting, click here to book a Discovery Call with your regional expert. Designed to fit in around your schedule, these free 30-minute conversations via Teams give you a chance to have your questions answered, decide if our service is a fit for your needs, and identify if you qualify for a £1,200 DfE grant to spend in your setting.
Pass it on
Small actions can lead to a big ripple effect. If you enjoyed this post or found it helpful, please consider supporting us in our mission to help every child and young person feel safe, supported and ready to learn by sharing it using the social media buttons below.
Want to join a like-minded community of senior leaders and classroom staff benefitting from insights and strategies to improve attendance, behaviour and attainment? Add your email address below. (It's easy to unsubscribe).